Health Minister Nguyen Thi Kim Tien paid a surprise visit at three leading hospitals in Ho Chi Minh City on July 7 to find out how hospitals tackle overloading.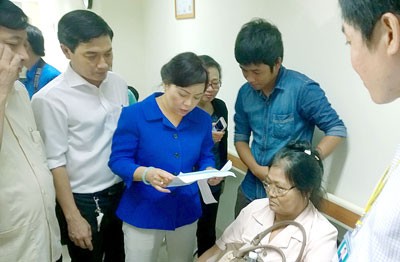 Health Minister Nguyen Thi Kim Tien ( in blue shirt)  talks to a patient in Medical University Hospital in the surprise visit (Photo: SGGP)
The Health Minister visited three leading hospitals in HCMC including Cho Ray, Medical University Hospital and Thong Nhat. She and her teams had to hustle in the midst of a crowd in Cho Ray Hospital to study the treatment procedure.
Cho Ray receives over 4,000 patients a day and 78.5 percent of them are from nearby provinces.

60 year old Nguyen Thanh Tuyen from the  Mekong delta province of Tien Giang said that he caught a bus in the middle of night of the day ahead but when he came to the hospital, many people were waiting.
Consequently, he can see doctor in the afternoon; therefore, it is possibility he spent a night in the hospital's lobby.

Health Minister Nguyen Thi Kim Tien disguised as a patient to find out the treatment procedure and behaviors of medical workers.

The Medical University Hospital was as crowded as Cho Ray hospital as it receives more than 5,000 patients a day. Thousands of people stood in chairs or in the sun waiting for their turns. Minister Tien sighed, saying that there have been just little changes so patients are not serviced well.
Dr. Nguyen Hoang Bac, deputy director of the hospital said that the hospital had opened additional 44 doctor's rooms, increased working hours and applied IT technique on bar code, electronic patient record but it just solved little.

In a session with Cho Ray Hospital leaders, Luong Ngoc Khue, head of the Ministry's Department of Medical Examination and Treatment, said that the hospital itself has to photocopy patient's documents including insurance card and hospital transfer paper. Cao Van Sang, head of Social Insurance Company in HCMC, said that hospitals will be criticized if they forced patients to photocopy the documents.

Minister Tien said central hospitals should continue its solutions to reduce overloading. She added that central hospitals have to send good doctors to rural counterparts for a few days instead of three months but it is carried out without stopping. State-run hospitals can cooperate with private hospitals to transfer post-operative patients to release overcrowding.

Health Minister Nguyen Thi Kim Tien said the Ministry was promoting the construction of second 1,000-bed Cho Ray Hospital in HCMC's Binh Chanh District with the support of the Japan International Cooperation Agency (JICA).
The Ministry also proposed the Medicine University Hospital to build its satellite in the Mekong delta province of Kien Giang. The Ministry will pour more money to improve facilities and equipment purchase in central hospitals in HCMC to tackle overcrowding.