After five years, a fund set up by the Urban Upgrading Project, which loans money to disadvantaged people to improve their living conditions, has helped 70,000 HCM City residents.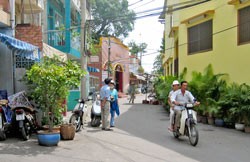 Many alleys in District 6, a poor area in HCM City, have been upgraded thanks to the funds
For Nguyen Thi Hoang Dung, a District 11 resident, the funds have changed the life of her whole family.

She said, "We have five members in all and lived altogether in a five square meter shabby house. Since the house had only one room, we had to eat and sleep together in the same place. Our children didn't have a private place to study.

"Since my husband and I are both low-income earners [her husband is a motorcycle taxi driver and she is a peddler], I never dared to think about upgrading the house. That was until 2005, when an official from the local Women's Union helped me to access a VND 15 million (US$ 843)  loan from the funds," she added.

To clear the debt, Dung would have to repay VND350,000 per month for five years.

Mrs. Dung said, "The lending condition was acceptable to us, as all we would have to do was put aside some VND30,000 a day to make repayments."

Thanks to the loan, Mrs. Dung could repair her house and build a mezzanine, which has been used as a common study room, as well as bedroom for her children.

Nguyen Thi Thanh, a resident from Binh Tan District, said that her family now can live an improved life thanks to the fund.

She said, "My family was very poor. Three years ago, the fund loaned my husband VND3 million   ($168)  to buy necessary tools to start assembling aluminum doors and windows and building partitions. Since my husband had managed to debt repayments on time, he was offered two further loans totaling VND10 million ($560)  to buy materials to develop his small business."

Mrs. Thanh said that her husband now owns a small workshop. Their family has not yet escaped poverty, but they enjoy a better life.

The deputy director of the HCM City Urban Upgrading Project, Le Thanh Liem, said that up to April this year, the fund has given loans worth nearly VND176 billion (US$ 11 million) to 18,933 families.

Over VND141.2 billion was loaned to 10,525 families to upgrade or repair their houses and more than VND34.3 billion offered to 8,408 families as business starting funds.

Designed to alleviate poverty in urban areas by improving living and environmental conditions, the fund, said Mr. Liem, has proved its efficiency by changing the lives of many poor families and helping reduce social problems.

Mr. Liem pointed out that among the 8,408 families that had received loans as starting funds, 4,383 have escaped poverty and now can earn a good income (accounting for 52.1 percent ) and 3,464 can earn average incomes (accounting for 41.2 percent).

Explaining the success of the fund, Mr. Liem said that thanks to the financial support, poor people no longer have to ask for loans with high interest rates from moneylenders to cover crucial expenses, which often lead to insolvency.

Instead, they are offered loans with low interest rates to start their business, and at the same time given specific instructions on how to effectively manage their small capital to avoid losses.

To make repayments by installments Mr. Liem said, every week, a borrower is required to put aside some VND50,000 and deposit it into a savings account.

The principal and interests of the loan will be deducted from the savings at the end of every month until the debt is paid off. The rate of overdue debts is not worth considering, as most of the borrowers repay their debts on time.

Despite the achievements, many believe that Urban Upgrading Project should consider raising lending amounts due to inflation and its impact on prices. Currently, to repair or upgrade a house, an individual can borrow up to VND15 million. The amount is now proposed to be raised to VND30 million.