While visiting Viet Nam to celebrate Tet (the Lunar New Year), overseas Vietnamese youths met with their local Vietnamese counterparts yesterday at the headquarters of the Ho Chi Minh City Committee for Overseas Vietnamese, to share cultural, life and work experiences and discuss common social issues.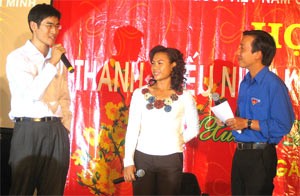 Vietnamese French citizen Duong Cao Phong (L) and American citizen Huynh Mai Huynh (C) talk with local youth in Ho Chi Minh City
At the meeting, Vietnamese French Duong Cao Phong , owner of Officience Business Performance Services Co. in Viet Nam, said that "Our staff is made up mostly of younger Vietnamese people. I've found them to be intelligent, dynamic and very knowledgeable. It's a pleasure working with them."

He added, "I am really happy to see that Viet Nam is on the road to development and it's especially gratifying to know that overseas Vietnamese have made significant contributions to successes here."
"Being Vietnamese at heart, I hope that many of the young overseas Vietnamese people sitting here today, as well as those elsewhere in the world, will consider coming back to their homeland to participate in the development of their nation," he said.

16 year-old Truong Thi Bich Thuy of Taiwan said that "although I am young, I always get very nostalgic around Tet. That's why I always come here whenever the opportunity presents itself. There is no place in the world I'd rather be - especially at Tet."

At the meeting, Le Thanh Thuy, who was selected as an outstanding "Young Citizen of Ho Chi Minh City 2006", talked about her program "Lovely Tet" which aims to raise funds to buy gifts for children suffering from incurable diseases at the HCMC Cancer Hospital.

The program attracted a lot of attention from overseas Vietnamese youths and many of them promised to join the program.

After the meeting, everyone looked very happy as they exchanged contact information and promised to meet again.

Nguyen Chon Trung, head of the HCMC Committee for Overseas Vietnamese, said, "I hope that this event will help to strengthen Vietnamese cultural traditions and that the young people who took part in it will be motivated to contribute to the betterment of their country".