Decentralization is designed to help local government staff become more proactive and reduce the workload of upper-tier and central government. Decentralization, however, has overloaded staff with work.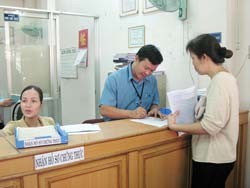 Deputy chairman of Tan Binh District's Ward 2 People's Committee, Dinh Khac Huy, is instructing the administrative procedures to a citizen (Photo: SGGP)
Chairwoman of Phu Nhuan District's Ward 14 People's Committee, Le Thi Thu Huong talked to SGGP about her work as a chairwoman.
She has to administrate and help ex-offenders reintegrate into the community, deal with the cases that occur daily, keep track of internal affairs, run poverty eradication programs, hold meetings and write reports.
After a long working day, she also has to participate in other meetings of organizations and unions in the region.
The chairs of other wards and communes bare the same workload, too.
Nguyen Van Cung, a citizen's advice official, in District 5's Ward 12, said that he had to deal with many matter related to legal matters and birth, death and marriage registration, as well as guide the citizens in their applications.
This does not include other work he has to do after office hours, such as publicizing laws and monitoring probationers in the region.
Nguyen Thi Oanh Kieu, in Binh Tan District's Ward Binh Hung Hoa B, holds several official positions. She is the leader of a volunteer group and a member of study encouragement board and the chairwoman of the ward's Women's Union. She participates in administrating and helping 30 ex-offenders reintegrate into the community and other activities.
Officials of other places also have to be in charge of several positions as there is a shortage of personnel.
Salaries not appropriate to the workload and have scared away many potential employees, chairman of Tan Nhat Commune People's Committee, Nguyen Tan Tuyen, said.