Children with cancer smiled cheerfully when they November 1 presented fashionable clothes on the catwalk at Ho Chi Minh City's Children House, but many visitors had tears in their eyes as they listened to heart-wrenching stories from parents and devoted doctors from Ho Chi Minh City-based Tumor Hospital.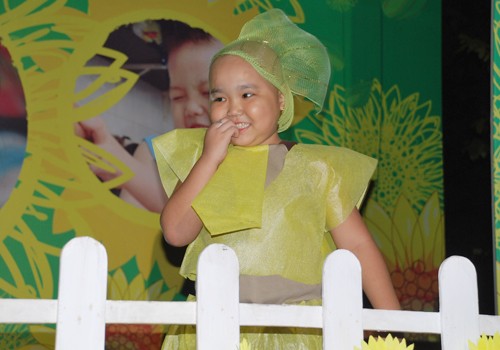 So shy, this little girl bites her nails when on stage (Photo: Tuoi tre)in Tokyo on November 2, 2009 (AFP photo)
The catwalk event was part of Tuoi Tre's campaign to help children living with cancer, "Viet tiep uoc mo cua Thuy" (Continuing to carry out Thuy's wish).

The program was held to mark the anniversary of Le Thanh Thuy's death, whose struggle against bone cancer, recorded through a blog, stirred thousands of hearts nationwide, and sparked Thuy's Dream campaign.

Visitors cheered most at the performance of small children in colorful and beautiful dresses and clothes designed by Sy Hoang.

The children turned out to be pretty flowers, though some felt timid to stand on stage for the first time, others were as playful as kittens.
A boy both stepped on the stage and pulled up his trousers while a little girl bit her nails while looking down at those watching the show.

The Cong- Nga family, from Go Vap District, took their children to the Children House and decided to buy 50 sun flowers, telling their eldest son to join in charitable acts when growing up to love life more.

A group of volunteers from "Chap Canh Uoc Mo" (Wings for the Dream) brought 1,300 sun flowers and 20 photos of daily activities of baby patients, 50 pictures drawn by children and artist Tran Nhat Thang's picture of "Nhung ban tay cua hoa" (Flower's hands).

"There would be a field of sun flower blossom in the heart of Hanoi" said Chap Canh Uoc Mo's leader, Ms. Thi Que.

Ms. Que also brought to the festival a poem for Le Van Duc who passed away one month ago. Holding back her tears, Que tried to read the poem which expresses the gratitude of a child to his mother.

Holding a paper sun flower in hand, Le Thanh Hieu cried a lot, saying to his parents, "I thank you for your care to me".

Joining her on stage, one boy both wiped his tears away and said, " I want to send my gratitude to my mother who save money to feed me."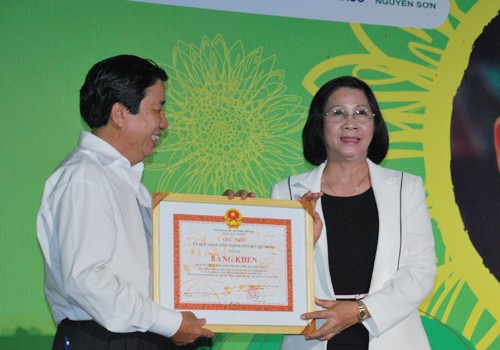 Ms. Nguyen Thi Thu Ha presents a certificate of merit to a Tuoi Tre representative for its meaningful festival to help and share the burden of children with cancer (Photo: Tuoi tre)
Many bought flowers that were sold to raise funds for disadvantaged children suffering from cancer.

Twenty thousand sunflowers were made by volunteers.

The flowers carried thousands of wishes and messages of hope and loving words exhorting the children to "Try your best to feel the meaning of life although our efforts are sometimes futile," and "Life always has difficulties but smile and trust will bring happiness to you."

Many benefactors and organizations bought flowers and pictures and raised about VND283 million (US$15,846) for the fund to support children with cancer in Ho Chi Minh City and Hanoi.

Nguyen Thi Thu Ha, Chief of Organizing and Personal Department of the city's Party Committee, gave Tuoi Tre a certificate of merit for its initiative to hold a meaningful festival to help children with cancer, calling on Vietnamese people to contribute to the program to share the burden with small patients.