Majority of the low-income housing apartments in Ho Chi Minh City have been built with poor quality construction material and consequently are in constant need of repair, causing much stress to residents.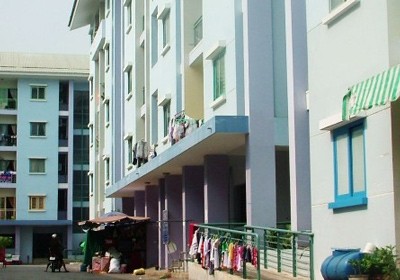 Illustration photo
Nguyen Van Hiep, deputy director of the city Construction Department made the above observation after a trip to the apartment buildings in the city on September 14, after he found that
people living here were using their own personal money to repair these dilapidated apartments.
Sai Gon Giai Phong reporters observed that sidewalks around the An Phuc and An Loc apartment buildings in District 2 had sunk into the ground and wastewater pipes were lying broken.
The buildings are also showing visible signs of cracks and sinking at their foundation bases, with large pot holes around the constructed areas.
Many residents living in the apartments have complained that even though they pay VND185,000 for monthly maintenance services for the elevator, cleaning, electricity and water supply, the upkeep is pathetic. Elevator lights have been broken for a few months now but they have not yet been replaced.
Tran Hoang Thoi, a resident of An Phuc Apartment building, said residents have to pay large sums of money to repair their apartments because of faulty construction. He said that all the low-income housing complexes had been built with poor quality material. Many of these building complexes in District 2 had been downgraded very soon after construction.
Residents are also facing innumerable problems at the Binh Trung Apartment complex in District 2. Most apartment walls here are showing cracks while also being porous, absorbing so much moisture that they soon become mildewed.
Tran Quang Duong, administrative head of the Binh Trung Apartment building, said that wastewater pipes are broken in places, causing pollution in eight of the apartment blocks. The fire prevention system is also in a sorry state.
He said residents had reported to the Housing Management Department of District 2 but have not received any reply so far.
A similar situation exists in other resettlement apartments such as An Suong Apartment in District 12 and Tan My Apartment in District 7.
A resident from Tan My Apartment said that on one occasion the ceiling fan fell, injuring a resident.
Hiep, deputy director of the city Construction Department, said that the ground floor area of the An Phuc and An Loc apartments in District 2 had sunk by around 15 centimetres because of a weak laid foundation.
Hiep added that he would report the matter to the city People's Committee and ask for the damage to be repaired.

Nguyen Tran Nam, deputy minister of Construction, said that the province People's Committee needs to ensure the quality of housing material used and not allow poor-quality construction for low-priced housing complexes.

According to the ministry, the country has more than 700,000 civil servants, millions of workers and nearly one million students who are in need of housing.

More than 20 provinces and cities have registered for 189 low-income housing projects on a total area of 7.1 million square meters. These are expected to provide accommodation for around 700,000 people by 2015.

Pham Sy Liem, deputy chairman of the Viet Nam Federation of Civil Engineering Association, says that there should be guaranteed funds set up by investors so that if any construction fault or mishap occurs in any of these buildings,  a resident can demand for speedy compensation.