For the past eight years, the scholarship-giving program for poor laborers of the Capital Aid Fund for Employment of the Poor (CEP) under the Labor Union in Ho Chi Minh City provided 8,899 scholarships to children of low-income families, orphans and disabled kids who are at risk of dropping schools to help them continue their studies.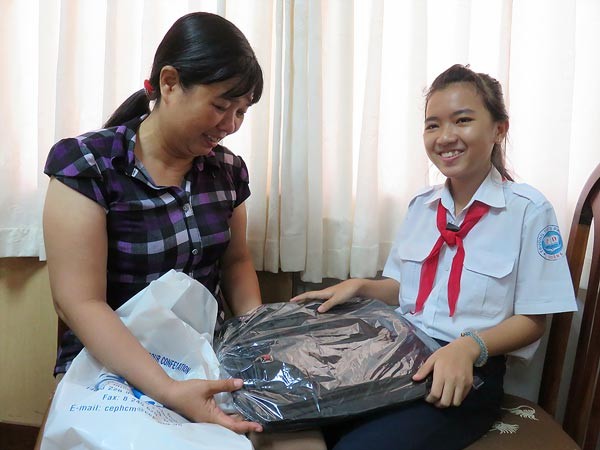 Nguyen Thi Ngoc Duyen and her mother are happy to receive scholarship from CEP (Photo: SGGP)
Total the program has spent VND26billion (US$1,159,420) purchasing study items and cash to good students from poor families, orphans and disabled kids.
Nearly three years ago, Nguyen Thi Ngoc Phuong, mother of seventh-grader Nguyen Thi Ngoc Duyen in District 6 was lucky to meet an employee of the CEP when she asked her neighbor for a loan.
The CEP employee told her to give her a sum of money to overcome her difficulties. Thanks to the sum, Ms. Phuong can pay all her debt before and her children could continue their schooling.
Ngoc Duyen said she will give all the scholarship to her mother to pay her tuition fee and buy new clothes for her mother because her mother's clothes is torn out.

Similarly, brothers Nguyen Hoan Vi in District 8 could continue their schooling thanks to timely assistance from CEP and CEP's scholarships. Many good students from low-income families received help from CEP for further aid. CEP's Deputy Director Nguyen Tan Dat said that CEP aims to give incentive for members' children for education.