A Lyon-designed artistic lighting project was inaugurated at the Ho Chi Minh City Central Post Office on September 22, as part of activities to mark the 40th anniversary of Vietnam-France diplomatic ties.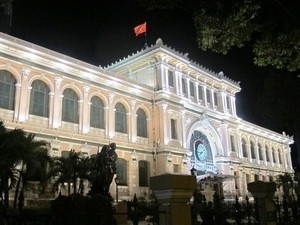 Lyon lighting illuminates Ho Chi Minh City Central Post Office (Photo: VNA)
The project is a creative product of the strong relationship between Vietnam and France, said Chairman of the municipal People's Committee Le Hoang Quan.
The lighting will contribute to upholding the architectural values of the city by illuminating the over-120-year-old French-style post office, he said.
As part of the French Year in Vietnam, the project reflects bond between the two countries in general and between HCM City and Lyon in particular, said Deputy Mayor of Lyon Gilles Buna.
At a meeting with Vice Chairwoman of the HCM City People's Committee Nguyen Thi Hong on September 20, Gilles said the two cities' cooperation in urban lighting over the past 15 years has brought positive results and pledged that his city will press ahead with assistance for future projects in HCM City.
Lyon had supported HCM City to carry out other artistic lightening projects at the Ho Chi Minh Museum in 1997, the headquarters of the municipal People's Committee in 2004 and the Opera House in 2008.