That was reported at a meeting of the city People's Council on the progress and implementation efficiency of anti-flooding projects in HCMC on June 13.

Reporting about the city's anti-flooding program in the phase of 2016-2020 at the meeting, Mr. Hoang Anh Dung, deputy head of the Management Board of Traffic Infrastructure Investment and Construction said that capital allocation for drainage upgrading and building projects is expected to total VND11,056 billion (US$474.21 million) including VND10,556 billion for 64 projects while VND500 billion for two programs.
So far, 19 projects have been done, put into operation and reduced flooding in Districts 5, 9, Tan Phu, Binh Thanh, Thu Duc, Hoc Mon and Cu Chi. 20 projects were approved by the city People's Council on May 11 and expected to start construction by the end of this year or early next year. Three projects have not been invested for capital shortage and the premise has not been handed over to investors to implement seven projects.
Anti-flooding projects in HCMC has helped tackle flooding in many areas such as Cay Go roundabout, 3 Thang 2 (September 3) street, Le Hong Phong, Ky Dong, Tran Quang Khai, Tran Nhat Duat, Tran Khac Chan, Hai Ba Trung, Phan Dinh Phung, Phan Xich Long, Dinh Tien Hoang, Binh Thoi, No Trang Long, Xo Viet Nghe Tinh street, Kinh Duong Vuong, Nguyen Bieu, Nguyen Van Cu and Cach Mang Thang 8 and Le Lai streets and Cho Lon bus station.
The city had 126 flooded spots comprising 85 spots in the center of the city and 41 in outskirts in 2008. As of 2011, the city's efforts reduced the number from 126 to 58 comprising 31 spots in the center and 27 in the outskirts.
In 2015, the city had 40 flooded streets with 15 streets regularly inundated after rains. The number fell 85.71 percent to 18 streets in 2018.
Many anti-flooding projects have been put into operation without synchronous connection causing low efficiency such as those in Do Xuan Hop, Nguyen Van Qua and Mai Xuan Thuong streets where flooding still occurs after rains although drainage system has been done.
In addition, the coordination among agencies has been inefficient in handling canal encroachment or backfilling. The implementation progress of anti-flooding projects has failed to meet plan.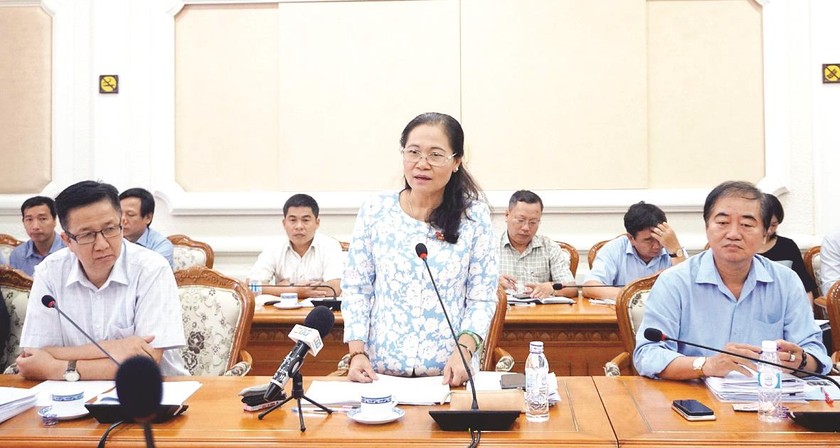 Chairwoman of HCMC People's Council Nguyen Thi Le stated at the meeting on anti-flooding progress and efficiency on June 13 (Photo: SGGP)

Mr. Truong Lam Danh, head of the Legal Committee under the city People's Council, said that surveys show that canals have been filled up for project construction without building water regulation reservoirs as per regulations in some districts.

Director of the Department of Construction Le Hoa Binh said that the agency will work with other agencies to review the issue and proposed that those who want to occlude canals must consult the Department of Agriculture and Rural Development because that might affect irrigation aside from drainage.
Deputy chairman of the city People's Committee Vo Van Hoan said it was impossible to immediately tackle flooding because of many reasons comprising not good management in the outskirts, climate change, depression and population increase. Meantime, the drainage system has not been invested synchronously in a timely manner.
For the last two years, the city has implemented five groups of solutions and many projects to reduce flooding and it has no longer been flooded as it used to be in 5-7 years ago. In the upcoming time, HCMC will calculate to prevent works from being put into operation with low efficiency and utmost promote the efficiency of each project through decentralized administration, plan adjustment and document assessment process improvement.
Moreover, the city will focus budget funds on site clearance and drainage system upgrading and call on investment in wastewater treatment plants and main drainage routes.
Chairwoman of the city People's Council Nguyen Thi Le recorded anti-flooding efforts for the last past. Still she said that the implementation of projects has been slow because of capital shortage and complicated procedures. The connectivity among works after they are put into operation is asynchronous so efficiency is limited. The coordination among agencies has seen lot of problems and many units have not done all the responsibility in anti-flooding work.
She prompted agencies and districts to synchronously work together in project implementation as well as management and operation of works after they are put into use. The Department of Construction should consult the city People's Committee on building regulations on state management for consideration.