Ho Chi Minh City market has entered peak shopping time for the upcoming Tet holidays which falls in February 17. Businesses of the price subsidization program have completed preparations of Tet goods and affirmed that prices will be kept stable in weeks near Tet.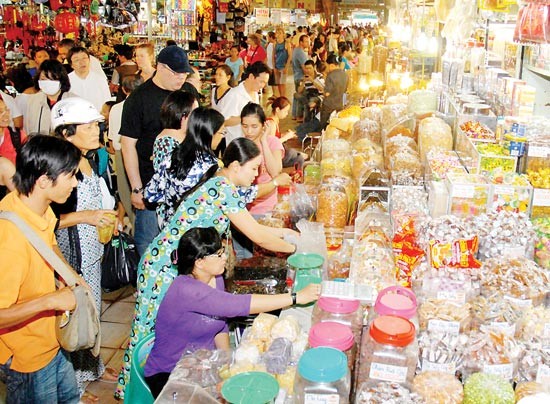 The market has entered peak shopping time for Tet holidays (Photo: SGGP)
Businesses have fulfilled their goods preparation plans. They said total goods value stockpiled for two months before and after the holidays has reached VND15,849 billion (US$745 million), up VND8,268 billion over the same period last year.
Beer & beverage consumption demand is forecast to reach from 40 to 45 million liters in the New Year Festival, up 30-50 percent. Producers have said that selling prices would not increase in the Tet holidays.
Cake, jam and candy demand is expected to reach 18,000 tons. Confectionary companies have launched several new products with good designs and quality. Most of them have kept the prices stable.
Those attending the price subsidization program will not be permitted to hike goods prices despite of input material cost increase in two months before and after Tet.
The Department of Industry and Trade and the Ministry of Finance have set up teams to intensify price inspection. The former and businesses have arranged mobile outlets, which will move to any district where prices are found unreasonably increase during the holidays.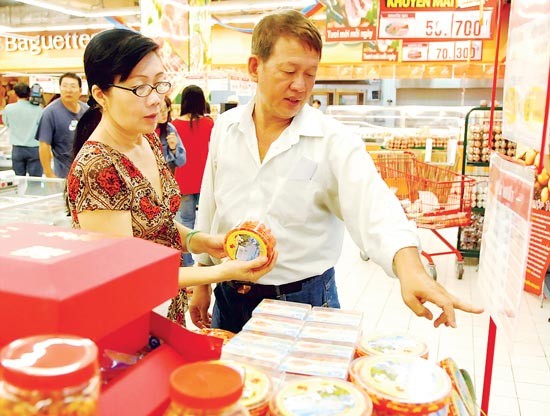 Customers choose jam products at a supermarket in HCMC (Photo: SGGP)
HCMC has also signed an agreement to work with provinces in the southern region to implement the price subsidization program.
The city leaders said that Lunar New Year which is the best business time every year, accounting for 30 percent of a business' annual revenue. Many companies and traders usually take advantage of surging purchasing power in this phase to sell counterfeits and low-quality goods and create a scarcity to rig the prices.
The price subsidization program will ensure abundant goods supply and rational prices to create best conditions for residents to celebrate Tet festival.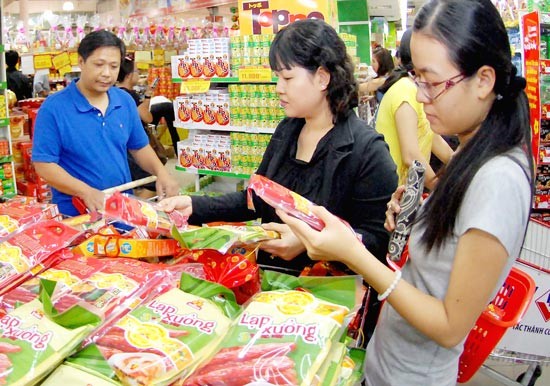 Vietnamese Consumers choose Chinese sausages at Co.opmart Cong Quynh in HCMC (Photo: SGGP)
Supermarkets and subsidized-goods stores will open up to midnight on the 29th day of the 12th lunar month. They will resume operation on the second day of the lunar New Year.

In related news Prime Minister Nguyen Tan Dung instructed authorized agencies to tighten market management, prevent smuggling and stabilize prices of essential items in Tet holidays at a cabinet meeting last weekend.
The PM instructed the Ministry of Finance to studying transport fee subsidization. Domestic gasoline prices should be kept in accordance with that in regional nations to prevent smuggling.