A massive explosion followed by fires was reported Sunday early morning at a residence in district 3 of Ho Chi Minh City killed at least ten people, injured three others and leveled three houses.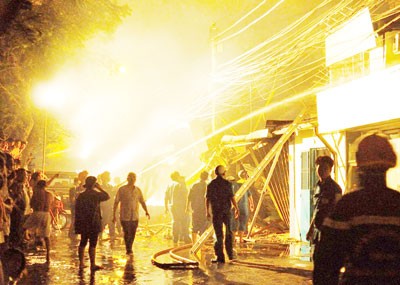 Firefighters use water tonardo to extinguish the fire at 1:00 Sunday morning. (Photo: Doan Hiep)
The explosion happened at 0: 45, causing fire that d some damaged several houses in the area of ward 8, district 3. It also shook nearby houses and residents who live 500m far from the explosion said that they could feel the shake. Police said that these houses are in risk of falling down
Right after the blast, fire forces and army engineers came to the scene and rescued three people in the fire. The three victims in age of eighty were hospitalized and two of them are stable now.
The fire was extinguished one hour after the explosion.
The first investigation reported that the explosion might result from film making equipments stored by a member of a film product company at his house.
However, the police did not rule out the cause of bomb, hence army engineers are looking for tracks of bomb or mines.
At the scene of the explosion police seized many movie making instruments that may cause explosion.
Residents in the area said that there might be several people trapped in the ruins and rescuers are finding victims who may be buried. They have to destroyed walls, pillars, dig in rubbles of lime mortar.
Streets around the scene are also blocked.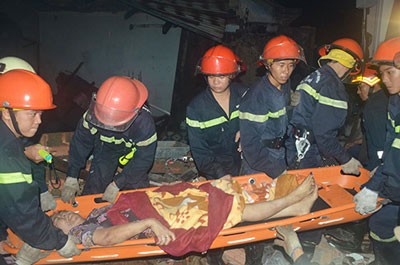 A victim was rescued in early morning. (Photo: Doan Hiep)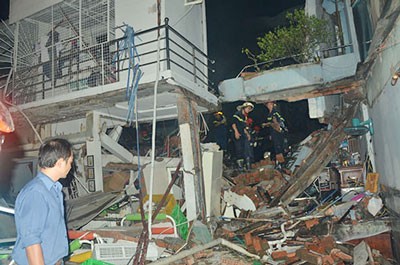 Rescuers find more victim who are said still to be buried in the ruins. (Photo: Doan Hiep)