Seven people were killed March 11 when a major fire broke out at a cushion factory in Thuan An District of southern Binh Duong Province.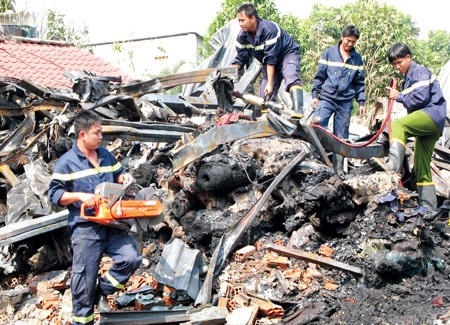 Firefighters search for victims after a large blaze ripped through the Sieu Vinh Loi Trade Service Manufacturing Private Company on March 11. The fire killed seven people and destroyed massive amounts of goods. (Photo:SGGP)
According to witnesses, the inferno began around 2 am at the Sieu Vinh Loi Trade Service Manufacturing Private Company. Flames quickly spread through the 2-storey, 400-square-meter building, destroying nearly everything in its path.
Resident Ngoc Anh, who lives near the factory, said he was awoken by calls for help coming from the burning building. Anh said people trapped inside could be seen frantically waving pieces of material in an effort to attract help.
Firefighters arrived on-scene approximately two hours after the inferno began, by which time the factory had been almost razed to the ground.
It took rescue personnel another two hours to bring the flames under control as the factory contained a large amount of highly flammable materials.

At around 5:30am, three of the seven deceased victims were found. Factory owner Nguyen Thi Kieu, 34; his mother; and a 6-month-old boy were among those who perished.

The bodies of the other four victims were discovered at 10am, including driver Truong Van Phong, 21; and three other factory workers whose full identities are not yet known.

Police are now investigating the cause of the incident.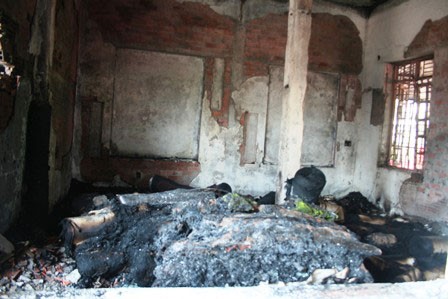 Manufacturing materials become ashes. (Photo: dtinews)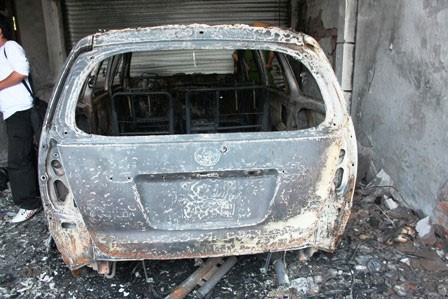 A car is burnt in the fire. (Photo:Dtinews)