Vietnamese authorities have suspended operations of the White Palace complex built on military land without construction permit and a decision whether or not to demolish it is expected soon.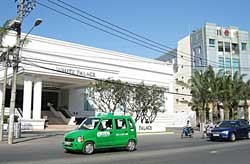 The White Palace on 194 Hoang Van Thu
The People's Committee Council Office on December 7 issued a directive calling for a halting to weddings and convention services at the two-floor White Palace on 194 Hoang Van Thu Street, Phu Nhuan District.
According to White Palace director Bui Thanh Luong, three weddings expected to attract 2,100 guests were scheduled to take place at the building yesterday but were transferred to another venue.
Today, authorities will convene again to study the legalities involved in the structure's construction.
Built on a 7,382 sq.m. land plot belonging to the military, the VND70 billion (US$4.37 million) structure was topped off and opened December 1. It turned out, however, that local inspectors had found the site lacked a construction permit back in May but did nothing.
Senior inspector Nguyen Nhu Hong earlier told Sai Gon Giai Phong he faced obstacles to inspecting the site because it is on military land and is thus closed to outside administrators.
But city Deputy Chief Inspector Duong Ngoc Thanh has said that, as the White Palace was being used for civil and commercial purposes, it must comply with general construction regulations.
Tay Nam Import-Export Trading Company leased the lot to the Nam Bac Hospitality Company which in turn hired contractor Tan Ky Construction Service Co., Ltd., to build the White Palace.