The revelation by Viet Nam Standards and Consumers Association (Vinastas) that several dairy makers cheat on protein content in milk has raised fresh worries among the public.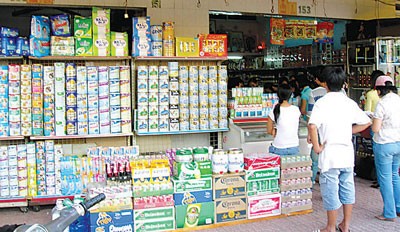 Quality of milk on sale puzzles parents (Photo: SGGP)
Vinastas' announcement follows tests made on 20 samples from Ho Chi Minh City for safety and nutrition standards.
The tests, carried out by both Vinastas and Quality Assurance and Testing Center 3 (Quatest), showed that 50 percent of the milk sold in the market has lower protein content than indicated on the packaging.
Four of the products have very low protein content -- of below 2 percent.
Tan Thanh Ngoc Company Ltd. based in District 11 claimed its milk has a protein content of over 24 percent but tests revealed it has a mere 0.5 percent.
Separate tests by city health inspectors found four milk products from Tuan Cuong Phat Ltd. Company containing less protein than legally required.
The deputy head of the Vietnam Food Administration, Nguyen Thanh Phong, expressed surprise that though dairy makers have to complete several formalities before entering the market, the sale of low-quality milk is rife.
He also said regulatory agencies took action too late rather than prevent such products from being sold.
For instance, Vinatas sent its protein test results to the city Department of Health on October 4, 2008, expecting it to crack down on four milk producers, but action was only forthcoming in December, he said.
If milk quality is not closely monitored by official agencies, customers' health is at risk, the chairman of Vinastas, Nguyen Nam Vinh, warned.
Late last year there was a major scare in Viet Nam following an international outcry over melamine-tainted Chinese milk products.
Related article:
Several milk makers cheating on protein content: ministry