Unaware of the potential for explosions and fire, many Ho Chi Minh City residents use mini gas cookers and old mini gas tanks improperly.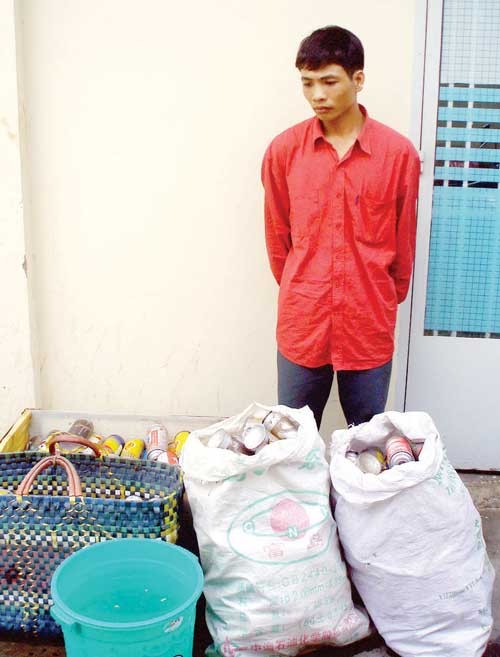 A man is arrested in HCM City for illegally refilling mini gas tanks. (Photo: SGGP)
Because the canisters are small and cheap, they appeal to students, the poor and some restaurant owners. A new mini gas tank costs VND15,000, and an old  one is just VND5,000.
Mini gas tanks are only intended for use with mini gas cookers and come with a warning from manufacturers that they should only be used once. But many people continually refill the small tanks with gas using large 12 kg tanks.
The practice is illegal and can lead to serious explosions and fires, but many are not aware.
An explosion occurred at the beginning of the year when Nguyen Quang Ngoc, the owner of a dog meat restaurant in District 9, was transferring gas from a 13 kg tank to a 220 gram mini tank.
The 13 kg tank's valve was left open as he transferred the gas from one tank to another. Nearby, a fire was burning over a coal cooker and when the gas reached it, both tanks exploded.
Ngoc and his five-year-old son both suffered severe burns.
Another gas tank exploded at a small restaurant on Nguyen Du Street, District 1 while staff were using an old mini gas tank.
Police later arrested Nguyen Van Thuong, who sold the old mini gas tanks to restaurants in the city.
Thuong said that he refilled more than 200 mini gas tanks from 12 kg tanks every day and then sold them to restaurants for VND3,500 a tank.
Authorities have also discovered more than 400 mini gas tanks which do not have a clear origin.
To date, 43 fires due to gas explosions have occurred in the city and caused injuries to 42 people.
Senior Lieutenant Colonel Vu Van Bon from the city's Fire Prevention and Fighting Police Department said mini gas tanks do not have safety valves, so it is easy to for accidents to happen.
Meanwhile, many gas manufacturers do not include gas-cooker or gas-tank safety directions.
Hard to crack down
Despite the proliferation of accidents caused by illegal refilling and misuse of the mini gas tanks, police have only cracked down on a few cases.
Police have seized old mini gas tanks many times from businesses selling them on Hoang Hoa Tham and Nguyen Xi streets in Binh Thanh District, Tran Hung Dao Street, District 1 and Pham The Hien, District 8. But tank sellers are tenacious and continue to operate surreptitiously.
According to regulations, if police want to check a business, they need to alert the company three days in advance. As a result, many businesses take advantage of the time to hide any illegal products or activity.
In addition, if a fire due to gas causes damage to citizens of over 61 percent, the police can attribute the blame to businesses. Most businesses are fined but not sued.
Moreover, small fines make it more lucrative for companies to simply pay the penalty rather than stop operating.
Smuggled gas, fake gas and poor-quality gas sold in the market also creates headaches for authorities.