Ho Chi Minh City has invested hundreds of billions of dong to build pedestrian subways and flyovers for residents to be able to cross streets safely, but which now have become ideal locations for flourishing social evils.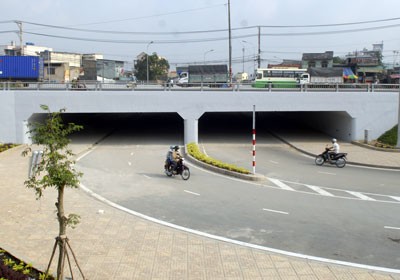 Linh Trung Subway in HCMC (Photo: SGGP)
A few months after the subway under the intersection of Nguyen Van Linh Highway and Highway 1A in Binh Chanh District was opened, many residents hesitated to enter the subway mainly in fear of drug addicts who congregated there, said Vu Thanh Liem, a local resident.
The subway also became a convenient spot for prostitution to flourish, a situation that has been prevailing for a long time, he added. 
The management of this subway falls under the Cuu Long Company. On many occasions, local residents have complained to both the company and local authorities to rid the place of this menace, and even after promises of action, nothing has been done so far. 
People have misused the Tan Tao subway as well, where several traders have opened stalls to sell clothes. The subway was built in 2007 to serve more than 90,000 workers from Tan Tao and Pouyen Industrial Parks, who earlier had to cross Highway 1A.
The flyover across Hanoi Highway in front of the Suoi Tien Amusement Park in District 9 is also being misused by several vendors and fortune tellers, stairs are littered with garbage, making it unsightly and unpleasant for people to walk on it.
Similar conditions prevail on No Trang Long Street in front of the Oncology Hospital. Vendors and motorbike taxi drivers gather at the foot of the stairs leading to the flyover.