For the second day in a row, flood tides inundated areas of Ho Chi Minh City, breaking dykes and causing havoc December 6.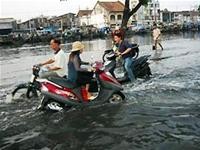 A flooded area during high tide in Ho Chi Minh City (Filed photo)
Water flooded the Binh Dien bridge area, and Binh Tan and Binh Chanh districts, leading to major traffic jams of up to three hours.
Many transport vehicles also broke down, slowing traffic even further.
Nearly 100 homes in An Phu Dong Ward, District 12 were deeply submerged due to a broken dyke along a stretch of the Van Thuat River.
The floods moved in so quickly that many residents didn't have time to move their furniture or belongings out of the water's path.
Areas in Binh Chanh and Linh Dong wards of Thu Duc District were also inundated in the early morning by the tides.
Several roads were flooded including Kha Van Can, road No.25 in Thu Duc District, 13 Highway street near the East Bus Station, and Binh Thanh District affecting local travel.
Many routes including D2, D3 and D5 streets in Binh Thanh District were submerged by the flood tides, which sent water into nearby homes.