The staff of the Ho Chi Minh City Opera House and the five-star Caravelle Hotel nearby joined hands to clean and beautify the theater Friday for World Environment Day, June 5.

Management of the hotel and theater also joined their staff in cleaning the front yard, corridor and entry way to the Opera House, located in the heart of the metropolis.

They washed the Opera House water fountain, and re-planted flowers around eight big trees next to the flower garden opposite to the Caravelle entrance. About 1,200 flowering bushes were planted, together with many bags of soil and fertilizer.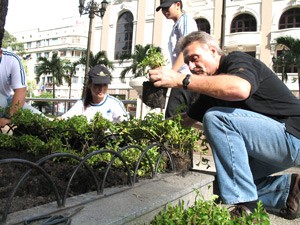 Caravelle Hotel general manager John Gardner (R) and his staff re-plant flowers in the Opera House flower garden on June 4, 2010 (Photo: Tuong Thuy)
The hotel staff will continue to care for these flowers, according to Caravelle general manager John Gardner.
The hotel team used their tools, such as a high pressure water sprayer, spatulas and chemicals, to make the Opera House cleaner and greener.
In addition, the Caravelle joins Ho Chi Minh City-based Saigontourist Holding Company in a tree-planting project in the southern province of Ca Mau on June 4-6.