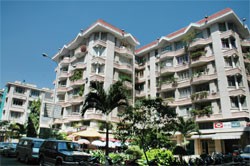 The city to build more 500 houses for education and health workers (Photo Viet Dung)
The city will spend EUR5 million to build more than 500 houses for education and health workers, the director of the Ho Chi Minh City Investment Fund for Urban Development said at a meeting on education sector investment projects on Saturday.
The money will be taken out from the long-term loan of EUR30 million for educational and health projects provided by the French Development Agency (AFD - Agence Française de Développement).
For some time now in Ho Chi Minh City, education employees wanting to buy a house or apartment have been able to borrow up to VND300 million at the low interest of 0.56% a month and be supported by the city's government budget with the interest rate of 3% a year. They will pay the money back over 15 years.