The steering aboard on food safety said it will increase inspectiing and monitoring food products to ensure compliance with food safety standards and inspection legislation during Tet holidays and festive season in Ho Chi Minh City.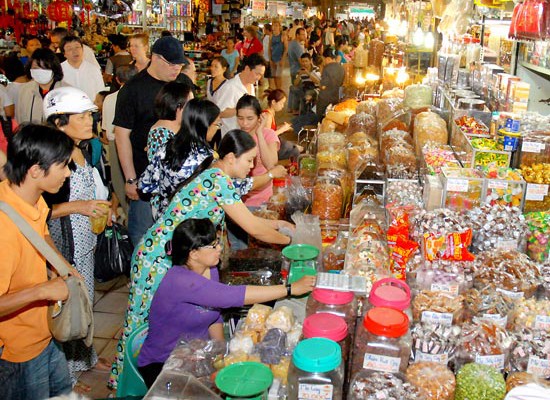 Inspections will focus on wholesales markets, supermarkets and eateries (Photo: SGGP)
Inspectors will focus on facilities producing, processing, trading products and material for production that are mainly used during the Tet holiday and festivals such as meat and meat products, fruits and veggies, beverages, alcoholic drinks and confectionery, especially monitoring chemicals, antibiotics and pesticide in a bid to prevent poisoning in the country's holidays.

For detail, the city will increase 10 percent of inspections compared to 2016 to ensure unsafe products to circulate in the markets as well as raise businesspersons' awareness and customers' knowledge of selection and preservation of food.

Inter-department inspection team will be set up in coordination people's committees in 24 districts to perform inspection in all districts.

Inspectors will monitor food safety in eateries, shops where to sell subsidized goods, businesses to sell imported commodities, wholesales markets, supermarkets and trading centers. Harsh penalties will be issued on violators including suspension. Tests will be performed on products with additives and banned substances. Inspectors will be quick to remove unsafe products from markets.