Three firms have been added to the growing list of South Korean invested enterprises found breaking labor laws and cheating workers.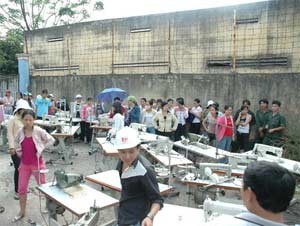 Workers of Quang Sung Vina Ltd. Co. stay and sleep at their company to prevent others from removing company's assets (Photo: Tuoi Tre Newspaper)
The Labor, War Invalids and Social Affairs office in Ho Chi Minh City's Thu Duc District reported two Korean firms for labor law violations - Vietnam Garment Technology Co, a single-member limited company, located in Linh Tay Ward; and Thai Duong Textile and Garment Co, in Linh Trung Ward.  
The manager of the Vietnam Garment Co absconded four months ago and the company has not paid salaries to its employees for a long period.  
Meanwhile, the Thai Duong company has seen a strike by its workers over the last two days. The workers said that the company has not followed labor laws most of the time, and some of them also claimed to be subjected to sexual harassment by Korean staff. 
Officials of Phu Nhuan District in the city also reported a case where workers of Korean Noodle Ltd. Co. accused its directors of cheating them. According to the workers, they did not receive any social insurance though the premium was deducted from their monthly salary. The company also sacked workers without any compensation.  
In other related news, hundreds of workers of the Quang Sung Vina Garment Company in Go Vap District remained gathered in front of their company over the last two days to prevent others from removing company's assets. They have not been paid for two months and their Korean boss fled many days ago. 
They told officials that if the relevant offices are not able to find a reasonable solution, "we will sell the machines and furniture in the company by ourselves and collect our salary from the proceeds."  
On the same day, city officials formed a team to seize all the assets of the company and asked the Go Vap District's Confederation of Labor to give the workers specific guidelines about the process to claim their compensation. 
The workers have not accepted the solution and continue their vigilance outside the company.  
Related article:

Workers Protest after Korean Boss Flees