The Ho Chi Minh City People's Committee has told the Ho Chi Minh City Power Company to replace half of the overhead power lines in Districts 1, 3, 5 and a few other places with underground cables by the end of next year at the latest.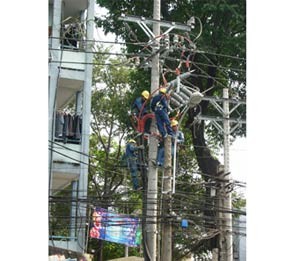 Electricians repair an electricity post with enterlacing wires  which will be replaced by underground cables as planned (photo by H.U.)

From 2001 to 2005, the company laid 400 kilometers of underground cable, specifically 375 kilometers of medium-voltage and 25 kilometers of low-voltage, a performance that does not satisfy People's Committee vice chairman Nguyen Trung Tin, who would like to see the pace quicken.

The city's target for 2010 is for the power company to install 106,000 kilometers of medium-tension and 88,000 kilometers of low-tension underground cables in districts 1, 2, 3, 4, 5, 6, 10, 11, Binh Thanh and Phu Nhuan in three phases.

Part of the 2007-2008 initial phase is to install underground cables along some of the main streets in the center of District 1 and around Ben Thanh Market, as well as in District 4, Binh Thanh and Tan Binh.

Stage two, from 2008 to 2009, expands the work in District 1 and Binh Thanh and includes laying underground cables in districts 3 and 11.

The final phase is from 2009 to 2010 and concentrates on districts 2, 3 and Phu Nhuan.

To carry out the project, the power company will need help and support from other State agencies, so Mr. Nguyen Trung Tin has assigned them specific tasks too.

These include working with the departments of Industry, and Post and Telecommunications to outline the rate of progress.

The power company itself must come up with a detailed plan for installing underground power lines from now to 2010 and outline a plan for the subsequent decade.

Above all, the installation of underground power cables along Hai Ba Trung Street in District 1 should be completed this month.

For projects to upgrade, repair or widen main roads and drainage systems, the Department of Communications and Public Works must work with the Ho Chi Minh City Power Company, the Department of Post and Telecommunications, and the Cable Television Company.

Concerning newly established export processing zones, industrial parks, residential areas and new suburbs, the installation of underground power and phone lines must be coordinated with the building of infrastructure.

Mr. Tin's final instruction was for the Department of Post and Telecommunications to formulate a plan for installing underground telecommunications cables from now to 2010 and draft regulations on the legitimate use of power poles.