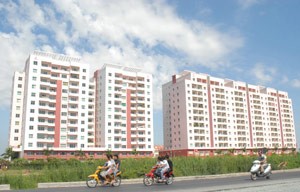 Buildings for low income people spring up all over the city (Photo: Cao Thang-SGGP)
An investment of US$45,4 million from World Bank's ODA preferential loan will be used for the Ho Chi Minh City Urban Upgrading Project, said the city's leaders Thurday at the meeting on the implementation of the project's stage 2.
In the stage 2 of the project, infrastructure upgrading for low-income residential areas will be carried out in 15 city's districts from 2006 to 2010.
The project includes major items: improving and rebuilding drainage, water supply and public lighting systems, supporting finance for the poor in repairing their houses and improving their life.
Deputy chairman of the People's Committee of HCMC Nguyen Huu Tin highly appreciated the results of stage 1, carried out from 2004 to 2006, including upgrading the infrastructure of low-income residential area of Tan Hoa-Lo Gom, benefiting 22,000 households, loaning 4,500 households with VND41 billion from the capital turnover fund of the project and enlarging more 150,000 square meters of housing area for low-income people.
The meeting was jointly organized by the Viet Nam Fatherland Front Committee in Ho Chi Minh City and the Ho Chi Minh City (HCMC) Urban Upgrading Project Management Board.