Shell fish breeders in the Can Gio have expanded the area for breeding Meretrix lyrata by nearly 700 hectares. This is expected to boost yearly output by 15,000 – 20,000 tons and create jobs for thousands of people.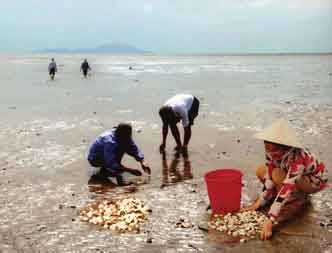 Shell fish breeders havest  their Meretrix lyrata crop
After a number of farmers increased their earnings when their crops were more abundant than usual, other residents decided to further invest in Meretrix lyrata breeding to increase their production.

Farmer Le Van Le of Can Thanh recently spent VND5.5 billion to expand his breeding area by 70 hectares, creating stable jobs for nearly 60 workers. Mr. Nguyen Tat Nghia, also a Can Thanh resident, has decided spent VND3 billion to expand his shell fish breeding area by 17 hectares.

According to the breeders, they still face risks, including water pollution and unpredictable weather, that threaten their shell fish production.