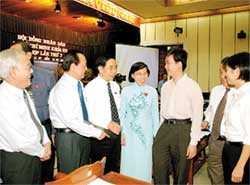 Members of the Ho Chi Minh City People's Council at a working session (Photo: SGGP)
Ho Chi Minh City government has continued to implement votes of confidence deciding whether or not main officials elected by local councilors will remain in office, and one official has already been replaced after failing to survive one such vote.
This year, votes of confidence have been held in 289 out of the 317 wards and communes in HCMC for the heads of the People's Councils and People's Committees of the localities.
 
So far, 197 out of the 239 heads of the People's Councils and 193 out of the 250 chiefs of the People's Committees earned the rates of confidence from 90% to 100%.
But the rate for the chairperson of the An Phu Ward People's Committee in District 2 was lower than 50% and the People's Council has replaced the official.