Hundreds of households along Lang Canal in Binh Thanh District, Ho Chi Minh City, complain that a recent surge in mosquitoes is making daily living unbearable. 
Over the past month, the number of mosqui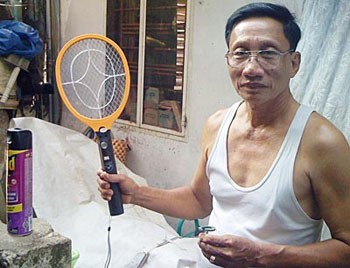 Residents living along Lang Canal in HCM City's Binh Thanh District are at a loss as to how to control the recent explosion of mosquitoes (Photo: SGGP)
toes has increased especially at night, said a woman in Binh Thanh's Ward 11 who showed her severely insect-bitten legs to reporters.
Nguyen Thi Hong Le who lives in Ward 13, meanwhile, said her two-year-old son was feverish for two days recently, which she suspected was due to several mosquito bites.
Ms. Le said she has tried everything from incense and electric insect rackets to chemical sprays, but the mosquitoes always return.
Nguyen Van Nhien from the same ward said the mosquito epidemic began over a month ago, and that most locals have been forced to eat meals under netting to avoid irritation.
Authorities asked to improve action
Local residents said that each time they complain to local authorities, Binh Thanh District's Preventive Health Center sent staff to spray insecticide, but the mosquitoes always returned in large numbers after just two to three days.
The bugs are believed to be coming from the polluted Lang Canal, which sees an annual outbreak of mosquitoes, but authorities have yet to dredge or clean the canal.
Binh Thanh is now the city district with the most reported cases of dengue fever, spread through infected mosquitoes.