Hua Ngoc Thuan, deputy chairman of the People's Committee in Ho Chi Minh City, in a live televised program on Sunday spoke of the close coordination between three related agencies to procure, manage and distribute 70 percent of the food items from provinces into the city.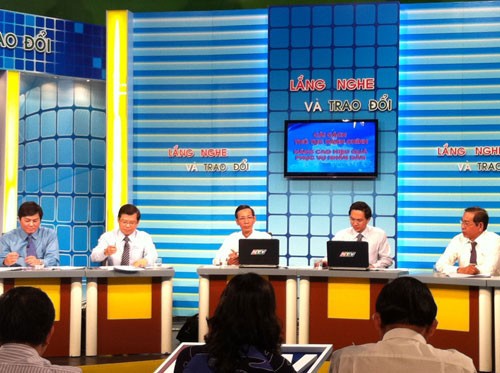 Participants at the live televised program, 'Listen and Exchange", organized by HCMC Television and the People's Council on Sunday
Thuan was speaking on the 'Listen and Exchange' program organized by HCMC Television and the People's Council, in which people from all walks of life took part.
Thuan said that HCMC only supplies around 20 percent of agricultural produce while the remaining 80 percent is brought in from other provinces of Vietnam.
He added that the Department of Health, the Department of Industry and Trade, and the Department of Agriculture and Rural Development coordinated very closely with each other to monitor large quantities of food items coming in from other provinces.
In future however, HCMC plans to provide 85 percent of food items like vegetables by 2015 and 100 percent by 2020, said Thuan. Accordingly, the city will spend more on establishing supervisory teams and testing equipment in wholesale markets.
The plan met with complaints from participants who felt that consumers have low awareness in choosing safe food items, as many people still buy from pavement vendors and open streets and have no way of checking items with chemical or toxic contents. Some people continue to buy such food items, despite them being unsafe, because of their cheap price. Hence, participants said that educating people on safe foods is also very important.
Nguyen Phuoc Trung, deputy director of the Department of Agriculture and Rural Development, said the city consumes more than 80 percent of food items from other provinces; hence the city needs to sign an agreement with the provinces on the authenticity of the food items and vegetables.
Huynh Le Thai Hoa, head of the HCMC Department of Food Safety and Hygiene, said that he was relieved to announce that so far there had been only one food poisoning incident in the City in the first six months of the year.
Thuan warned residents in HCMC to be mindful and choosy in selecting food items of well-known brands to protect from contamination and safeguard health.
The live program, presided over by Nguyen Thi Quyet Tam, chairwoman of the People's Council, focused on three main issues, namely, safe foods, preschool education and administrative restructuring.