HCMC authorities strongly commit to doing their best to ensure stable political and social environment, protect legitimate rights and benefits of investors and create advantageous conditions for foreign companies including Japanese to steadily and effectively operate in HCMC in long term.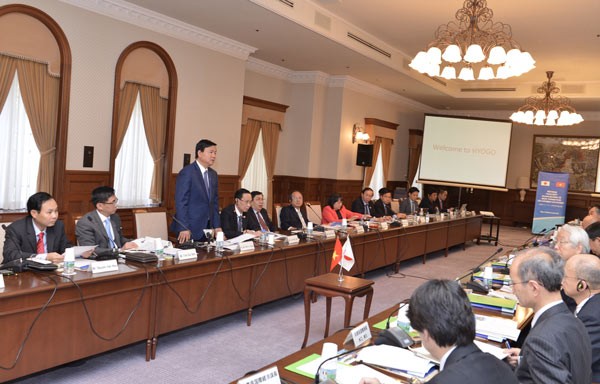 Secretary of the HCMC Party Committee Dinh La Thang delivers a speech at the economic cooperation promotion conference between HCMC and Hyogo in Japan on April 12 (Photo: SGGP)
The statement was made by secretary of the city Party Committee Dinh La Thang yesterday afternoon at an economic cooperation promotion conference between HCMC and Hyogo province, Japan.
The event was attended by provincial governor Toshizo Ido and crowded businesses from HCMC and Hyogo.
According to Mr. Thang, HCMC desires to listen to sincere comments from Hyogo businesses about their investment experiences in HCMC and their expectations so that the city can improve its trade and investment policies.
The city calls upon and welcomes Hyogo investors, appreciating Japanese firms for their faithfulness, honesty and industriousness which have created Japanese investors' prestige, he stated.
Governor Toshizo Ido said that over 1,500 Japanese businesses were doing business in Vietnam comprising many from the province. The conference was expected to contribute in boosting the friendly relationship between HCMC and Hyogo as well as among businesses from the two localities.
Hyogo always welcomes Vietnamese investors and pledges to providing them the best incentives, he affirmed.
At the conference, deputy director of the HCMC Department of Planning and Investment Tran Thi Binh Minh said that the city determined to step up administrative reform to facilitate investors' learning about investment procedures and attract foreign and Japanese companies.
In addition, the city would improve the operation quality of trade and investment promotion centers and organizations for the purposes as mentioned above.
Moreover, it has established a working group in the Kansai region which has operated efficiently for the last two years to connect Kansai businesses with the city's leaders and agencies toward sustainable economic cooperation between HCMC and the region.
The HCMC Department of Industry and Trade introduced to Japanese businesses about policies for the development of the support industry of HCMC in the phase of 2015-2020.
In the evening on Wednesday, HCMC organized a music program in Hyogo with 40 Vietnamese artists performing cheerful melodies or songs featuring Vietnamese culture. Many overseas Vietnamese living in the province came to enjoy the event.
Regional connectivity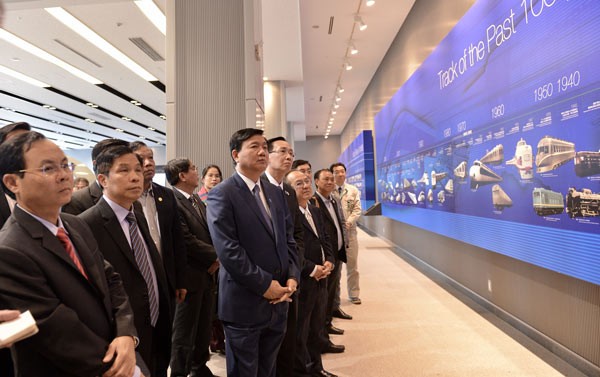 Mr. Thang and HCMC's high level delegation visit Kawasaki Company in Hyogo province on April 12 (Photo: SGGP)
Early the day, Mr. Thang paid Hyogo governor Toshizo Ido a courtesy visit.
At the meeting, Mr. Thang believed that Hyogo will have many cooperation programs with HCMC to promote the two sides' advantages in seaport and industry in the future.
Mr. Ido is an experienced leader having visited Vietnam and HCMC for many times, said Mr. Thang, adding that the governor will implement many initiatives to intensify the friendly cooperation relationship between the two localities and between Vietnam's southeast economic zone and Japan's Kansai region.
Mr. Thang expected that Mr. Toshizo Ido, chairman of Kansai regional government association, will continue playing motive force role to foster the two sides' cooperation relationship toward regional connectivity.
Governor Toshizo Ido highly appreciated the proposals by Mr. Thang in expanding cooperation and affirmed that businesses from Hyogo and kansai expect to further coordinate tightly with the city's enterprises and the entire southeast economic region, which he said a dynamic and quickly developing zone.
Mr. Ido committed to mobilizing Kansai companies to further invest in the area and head toward regional connectivity and cooperation in the upcoming time.
Related articles: