A conference held at Exhibition House in District 1 discussed the current state and the role of museums in the life of the city and examines possible changes.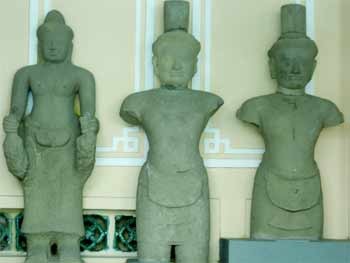 Cambodian sculptures of 10-13 centuries are displayd in History Museum in HCMC(Photo:U.Phuong)
The city, an international commercial hub and tourism venue, acts as the bridge between Vietnamese traditions and modern world.
In changing times, museums and relics play an important role.
Speaking at the conference, Dr. Pham Quoc Quan, director of the Viet Nam History Museum, said that it's necessary to have more narrowly focused museums as the country lacks this kind of museum. Viet Nam has concentrated on building history museums.
In addition, money is needed to upgrade museums and for construction work. Employees must have knowledge of the items exhibited.
Dr. Pham Huu My, director of the city's Institute of Social Studies, focused his attention on preserving and promoting the value of historic relics.
Over 100 buildings of historic interest and relics have been recognized by a list made up by the government. Yet some of them are in poor repair and must be fixed. Some shut their doors for fear that items will be stolen. Others fall into oblivion. Only a few are in good condition and visited actively: Thong Nhat Palace, Cu Chi Tunnels, Ben Duoc Monument to the War Dead, Reunification Palace, and the secret weapon cellars for the 1968 Offensive.
Dr. Trinh Thi Hoa said that in developed countries, museums are considered a luxury item. They advertise to attract visitors and potential customers who have not come to museums before. She thought that museums in Viet Nam lag behind those elsewhere in terms of using new technology.
Meeting participants discussed the problems of museums, but did not propose any resolution for them.
The conference on museums and historic relics in changing times was hosted by the city's Department of Culture and Information and by the Viet Nam Music Institute and the Cultural Heritage Department under the Ministry of Culture, Sports and Tourism.