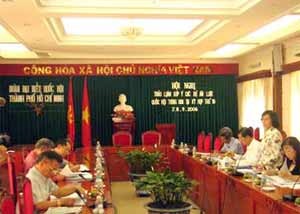 Ms. Phuong Thao (stand) speaks at a meeting of the Ho Chi Minh City NA Deputies.
The National Assembly must clarify its Deputy's supervisory roles so they can better respond to the concerns of ordinary people, concluded a recent meeting of Ho Chi Minh City NA Deputies. The meeting was held to review the performance of the current legislature over the last five years.
Ms. Pham Phuong Thao, who chaired the meeting, said the current legislature has managed to improve operations in terms of both law-making and supervision, thus contributing to major progress in law enforcement. She said, however, that there is still room for improvement in the way supervisors handle citizen's petitions and complaints.
Deputy Nguyen The Hiep, on the other hand, asked for legal revisions to give the voices of NA supervisors more weight and treat their recommendations as seriously as those of cabinet members during hearings held by the NA. He also expressed his hopes for the development of more effective legislation, especially in the areas of land compensation, site clearance and reallocation plans.
He then went on to stress the need for a more cooperative approach between the city's NA Deputies, the municipal People's Committee and the People's Council so that citizen's concerns can be handled in a more timely manner.