A mission group from the National Assembly February 6 in Ho Chi Minh City held a meeting to review the implementation of food safety for 2011-2016.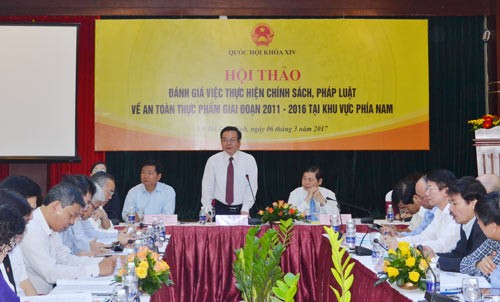 In the meeting (Photo: SGGP)


Phung Quoc Hien, vice-chairman of the law-making National Assembly, said that food safety is a hot issue which people and the National Assembly pay often much attention to.

The group has liaised with leaders in 19 provinces and listened to reports of food safety regulation from relevant departments and agencies.

In the period 2011 - 2016, the health sector inspected over 3 million businesses detecting 20 percent of them to violate the law.

In 2016, inspectors paid more visits to businesses and issued harsh penalties to violating ones. The number of violators increased from 17.6 percent in 2015 to 23.4 percent in 2016; moreover, violators paid more fines for violations. However, Deputy Health Minister Truong Quoc Cuong said that inspectors must trace back the origin of food.
Ho Chi Minh City People's Committee Deputy Chairwoman Nguyen Thi Thu said that the government has had policies to support farmers such as land lease reduction, preferential tariff and loan as well as encourage cooperation in agricultural production and aquatic breeding; connecting farmers and enterprises and other partners in consuming of produces.

According to the Ministry of Agriculture and Rural Development, 61 cities and provinces built up 519 agricultural, aquatic supply chains including 224 chains being accredited to be safe for consumers.
Secretary of HCMC Party Committee Dinh La Thang attended the event.