Nguyen Van Giau, member of the Central Party Committee and chairman of the Economic Committee of the National Assembly, visited the Saigon Giai Phong Newspaper office in Ho Chi Minh City on June 1.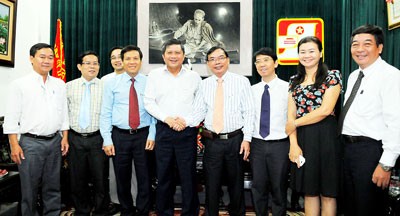 Nguyen Van Giau, chairman of NA Economic Committee (5th from right) with leaders of Saigon Giai Phong Newspaper on June 1 (Photo: SGGP)
At the meeting with the National Assembly (NA) leader, Le Tien Tuyen, SGGP Deputy Editor-in-Chief, proposed an income tax reduction of 10 percent for printing presses, to be applicable from July 1, instead of beginning of next year.
Several NA delegates also put forward the same suggestion during the fifth session of the 13th National Assembly.
According to Mr. Tuyen, economic recession has caused losses to most printing presses, especially those belonging to the Communist Party of Vietnam.
Mr. Giau said that preferential tax policy is necessary to boost press growth and a low income tax for a printing press is reasonable. However, this matter should be surveyed and studied carefully for each type of press.

Mr. Tuyen also suggested that Saigon Giai Phong and the NA Economic Committee should work together to organize a seminar on sea economy which will study policies to help fishermen.
This proposal received agreement from Mr. Giau. He said that the Economic Committee will prompt the implementation of the seminar.