Many residents in Ho Chi Minh City saved many years to buy a flat in The Manor, a new apartment complex. They planned to live out their years in comfortable luxury. However, after moving in they realized that the quality of the building was not what they expected.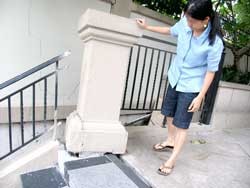 The stairs in The Manor, a new apartment complex, are in bad condition after a short time of using
A flat of 113 square meters in The Manor cost Ms. Nguyen Thi Binh US$167,000 last November. According to more than 20 families living here, before signing a contract to buy the flats in this building, they were shown sample flats by Bitexco Company.

Those sample flats were of excellent quality, but the apartments these families received were poorly built and equipped with low-grade materials.

Ms. Nguyen Thi Binh and her family members now have to bear odor of raw sewage as toilet water continually floods their Manor apartment.

Several other families in this building are suffering similar conditions.

To make the matter worse, the hallway roof leaks, flooding nearby flats with rain water.

"We spent a large sum of money on a modern flat in order to have a better place to live. We have not found any pleasure in this flat. They did not deliver the product they advertised," Ms. Binh complained.

Unfortunately, this problem is becoming more common in new apartment buildings. Without strict standards for apartment buildings, construction companies are free to advertise one thing, and sell another — for exorbitant prices, remarked Mr. Vo Dinh Quoc, vice director of ACB Joint-Stock Company.

This situation has created enormous difficulty for home buyers who simply want to get the flat they paid for.