A number of highways in Ho Chi Minh City have been built at a cost of hundreds of millions of US dollars, but despite the huge expense, their condition in just a few years' downgrades to cracks and potholes and constantly in a state of ongoing repairs.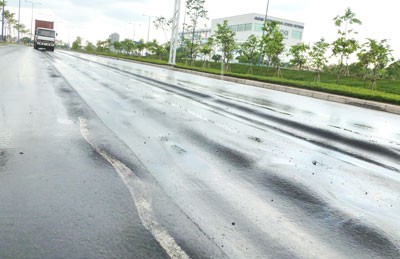 Sections of the East West Highway in An Phu Ward in District 2 are already caving and sinking below surface level (Photo: SGGP)
The East West Highway project in District 2 cost around US$660.6 million. Implemented in April 2005 and officially opened to traffic in November 2011, within just six months it looked badly downgraded.
Hundreds of cracks and sunken spots line the three kilometre highway, particularly from Road 25B to Cat Lai Cross Road. The worst spot lying at the intersection of Nguyen Thi Dinh Street, where the road has sunk more than 30cms below surface level with long cracks of over 1cm width.
Local resident Tran Xuan Linh said that within one month, the entire road surface in An Phu Ward in District 2 had sunk and cracked. Workers have repaired the damage several times but it keeps recurring. The irregular and bumpy surface has resulted in several traffic accidents.
Similar conditions prevail along the country's first expressway, the HCMC- Trung Luong project, which was constructed at a cost of US$9.9 million per kilometre.
The expressway was opened to traffic only two years back and already potholes, sunken spots and cracks along the entire stretch have been repaired on ten occasions. Nonetheless, the road condition continues to worsen.
Along the one kilometre road leading to the expressway in Tan Tuc town in Binh Chanh District, there are at least three 15cm spots that have sunken and caved lower than surface level.
Other roads too have downgraded after opening to traffic in just a short period of time. For instance, Pham Hung Street in Binh Chanh District has operated for only about one year and already showing signs of fatigue in several places.
Investors and contractors have blamed the roads' condition to lax management of relevant authorities and to overload of traffic far beyond capacity.
However, an expert from the HCMC University of Transport says the above explanation is irrational and not justified.
According to him, if the number of vehicles plying on these routes is more than capacity, cracks and sinking of spots would occur along the entire road and not just on some sections.
The downgraded condition might have been caused by careless construction and relevant authorities should set up an independent committee to determine reasons for these conditions. This will in the long run help save heavy repair costs.