Before leaving Ho Chi Minh City for Ha Noi to take office as State President, former Secretary of the HCMC Party Committee Nguyen Minh Triet visited his former teachers and spoke with the press in Ho Chi Minh City.

The new leader of Viet Nam, accompanied by Minister of Education and Training Nguyen Thien Nhan, gathered with his primary school classmates at their teacher's house in Cu Chi District.

"Our teachers Lam Ba Nhac and Pham Van Thanh taught us not only academic lessons, but moral philosophy also," President Nguyen Minh Triet said, expressing his gratitude to his 80-year-old teachers.

At the threshold of Mr. Lam Ba Nhac's house, the president was moved as he recited a poem he learned in childhood "Keep trying until the big day comes…".

Mr. Nguyen Minh Triet's elderly teacher recalled to him: "In those days you were very good at math. You always got top grades and found solutions to every problem".

Then he looked at his former pupil, "In your table now there are many "equations" and "unknowns". I believe you can find solutions to them the same way you did when you were a child. And the most difficult-to-find unknown is anti-corruption. Still I think you can".

Mr. Triet replied: "Over half a century ago, you taught us moral philosophy and revolutionary thoughts. I promise I will try my best to follow your way".

At his house in District 9, 70-year-old teacher Pham Van Thanh, who has devoted all his life to education, said to his former pupil, "We feel so unhappy about cheating rife in Vietnamese exams. We hope you will do everything in your capacity to tackle the problem. Before training leaders and talented people, we should teach them morals".

President Nguyen Minh Triet and Educational Minister Nguyen Thien Nhan gave their teacher a big hug and promised to do their best.

Speaking and writing responsibly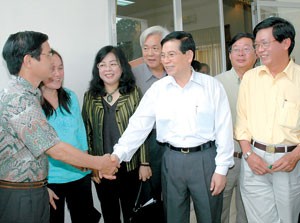 President Nguyen Minh Triet (white) shakes hands with reporters at the meeting
The hall of the HCMC Journalism Association was crowded with reporters and leaders from city-based press agencies on July 18.

Saying farewell to the city's journalists, President Nguyen Minh Triet said he would bring the city dwellers' creativeness and dynamism with him to Ha Noi.

He also said the greatest lesson he had ever learnt is that leaders should put the interests of the people above all. "Remember a historic lesson from the Soviet Union. The collapse of the Soviet Union was due to its Communist Party's separation from the people and the press's distortion of truth".

The President urged journalists to do their utmost to further contribute to the national construction and defense.

Mr. Triet said that journalists must ensure the accuracy of their articles and take responsibility for any incorrect information in order to promptly correct such mistakes.

He called on the press to concentrate on further improving their abilities while continuing to tote the Party line in order to help drive away social evils.

At the meeting, President Triet also emphasized that Ho Chi Minh City is one of the country's major press centers and it is imperative that press agencies stick to their goals for a civilized and democratic society.

On behalf of the press, Mrs. Nguyen Thi Hang Nga, Chairman of HCMC Journalism Association wished the new President good health in order to further develop Viet Nam in his new capacity.