The "Kids and Angels – Beautiful souls" charity show in January will help many needy Ho Chi Minh City children.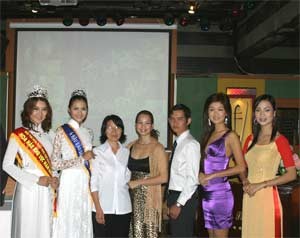 Beauties and the organizers pose at the press (Photo: Tho Xinh Co,)
Beauty queens and popular singers will headline a three-day charity event designed to give needy children hope for the future. 
The charity show is being organized by Tho Xinh Ltd. Co., Hero Film and Ms. Le Hoang Bao Ngoc, one of the 30 finalists in the Miss Vietnam 2008 Pageant. 
The first two days of the program will consist of various activities, including visiting and offering gifts to children at orphanages, open houses and hospitals, holding meeting and also outdoor camps for the children.  
Nineteen beauties, including four beauty queens - Miss Vietnam 2006 Mai Phuong Thuy, Miss Universe Vietnam 2008 Nguyen Thuy Lam, Miss Tourism 2008 Phan Thi Ngoc Diem and Miss Tien Phong Newspaper 1992 Ha Kieu Anh - will participate in outdoor camping activities with the children.  
On the final day, January 16, a gala night at Nguyen Du Stadium in District 3 will be the biggest event of the program. At the beginning of the night, guests will have a chance to enjoy an exhibition of paintings by children at the open houses and orphanages, before participating in a charity auction of the artworks. The auction proceeds will be donated to the city's open houses.  
During the show, the guests will enjoy the performances by the nineteen beauties and popular local singers, Ho Quynh Huong, Ho Ngoc Ha, Dam Vinh Hung, My Tam and Doan Trang.  
The gala night will be broadcast live on Binh Duong Television station's BTV2 channel.  
Asked about the motivation for the program, organizer Ms. Le Hoang Bao Ngoc said: "We wanted to do something to help needy children out there and encourage them to live better. My wish is that the donations will encourage the children to try to make their dreams come true in the future. I hope every of them will dare to dream." 
Official website:
www.kidsandangels.com