The Tet Festival will be grander this year than last year with many original ideas like a Guinness pair of 3.5-ton cylindrical glutinous rice cakes and a Flower Street website.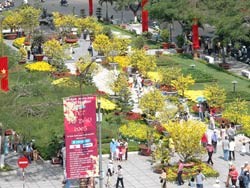 A view of Nguyen Hue Boulevard during Tet holidays in 2005. (Photo: SGGP)
In an interview with Sai Gon Giai Phong newspaper, Tran Hung Viet, Deputy General Director of the Saigontourist Holding Company and the Tet festival organization Committee's manager, said that this year's Nguyen Hue Flower Street will be organized by the Saigontourist Company and going on from 27 to 31 January. The Flower Street's symbol is a dog holding two cylindrical glutinous rice cakes in its front limbs and a horn in its mouth. 
The Flower Street will be designed with the subject "Spring beauty". It will keep the old idea of bringing the rural sense to city but sights and materials will be new. The Flower Street will stretch from Bach Dang wharf to the headquarter of the Ho Chi Minh City People's Committee and be decorated orderly according to the subjects of A Glimpse of the South, Picture of the Countryside, Pottery and the Lunar New Year, Plateau Flowers, etc.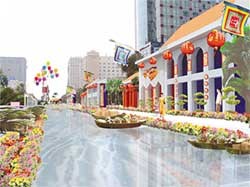 A model of this year's Nguyen Hue Flower Street. (Photo: SGGP)
Sightseers can enjoy a hanging flower garden, flower boats, water falls, scenery of the quiet countryside, stone dogs, collections of ancient trees, valuable and rare orchids, Vietnamese potteries and stones etc. Also, there will be a folk game area for children. 
 
Especially, the Saigontourist company is building a website of the Nguyen Hue Flower Street before Tet to introduce it to the world and to promote the image of Vietnamese tourism. Besides, overseas Vietnamese can view images of the Flower Street and the Lunar New Year in the homeland. 
 
As usual, a couple of Guinness cylindrical glutinous rice cakes weighed 3.5 tons, with the length of 3.5 meters and diameter of 0.8 meters will be made by 60 people at Dam Sen Park on January 27. The cakes will be made from 1,500 kilograms of glutinous rice, 300 kilograms of green beans, 100 kilograms of pork and using 350 kilograms of banana leaf. 
 
A cylindrical glutinous rice cake festival procession will take place from Dam Sen Park to the stage in front of the Ho Chi Minh City Opera House on January 30. The cakes will be carried on a dragon car decorated with fruits, vegetables, flowers, laser lights and multi-colored lanterns. Then a ceremony of offering the cakes to ancestors will start at 7pm, then the cakes will be shared by all visitors. 
 
Mr. Viet said: "This Tet will be very merry and cozy, which is the wish of the city's authorities and the festival organizers".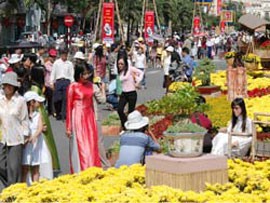 A corner of the Nguyen Hue Flower Street. (Photo: SGGP)