All cars have been banned on Nguyen Hue Street while decorations are underway for the next 11 days as the Flower Street readies for Tet.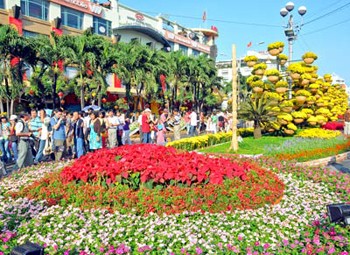 File picture of Nguyen Hue Flower Street during last Tet
The flower street will open for visitors at 6am on the 28th day of lunar December and will remain open for seven days till the fourth day of the lunar New Year.
Throughout the seven days that the flower street remains open to public, all vehicles will be banned on the entire stretch of Nguyen Hue Street from Quach Thi Trang Street to the Saigon Opera House.
In related news, the HCMC Department of Transport has approved an investment of VND155 billion (US$8 million) on a project to beautify both sides of the East - West Highway.
The Urban Traffic Management Division No.1 will invest in the project which will include planting of trees and installation of an automatic irrigation system.