At 10pm on February 13, the 4th day of lunar month, Nguyen Hue Flower Street was finally closed after receiving visitors for a week during Tet Lunar New Year Festival.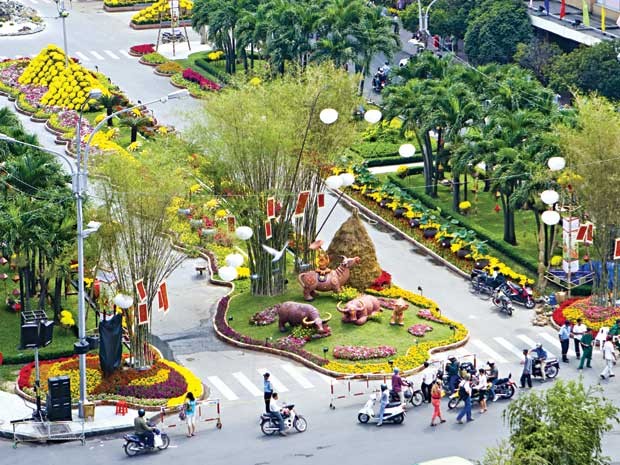 Nguyen Hue Flower Street
Nguyen Hue Flower Street in Ho Chi Minh City received more than one million visitors during the week long Tet Festival this year, according to the organizing board.
This year the number of tourists were much more than last year, and besides Ho Chi Minh City people also arrived from the southern provinces of Binh Duong, Dong Nai and the Mekong Delta provinces.
The 700-meter long flower street was decorated with the theme 'Vietnam, My Homeland', at a total expense of about VND7 billion (US$336,000).
This figure was released by Saigontourist, the unit which designed the flower street.
The flower street was open to visitors round-the-clock with about 120,000 pots of flowers of more than 100 varieties.
All the structures installed on the street for displaying flowers have remained intact thanks to the visitor's awareness to protect public property.
More than 1,000 youth volunteers, building inspectors, police in District 1, City Police, Fire Police, staff of nearby hospitals and private security forces, were all deployed to maintain security and safety of the flowers on the Street.
Several children who got lost everyday on the flower street were taken care of and returned to their relatives by security guards.
Compared with the same event during last Tet, youth volunteers and the police found fewer pick-pocketing cases this year.
After Tet, all the facilities used for displaying flowers will be brought to tourist centers such as Binh Quoi and Thanh Da.