Nguyen Hue Flower Street in 1955
French people are naturally interested in decorating their houses with fresh flowers, and when they planned Ho Chi Minh City, they beautified a street in the downtown area with flowers and exotic plants and kept it undisturbed from traffic and noise.
This particular road one century ago was called Rue Aux Fleur now Hai Trieu Street in District 1.
 
A century ago, state officials and upper-class people arrived at this street in their cars to buy flowers, and slowly the road became narrow when the government at that time allowed the setting up of kiosks to sell fresh flowers from Da Lat—the 'Flower City'.
Before the traditional Tet holidays every year, boats carrying flowers from the Mekong Delta anchored at Bach Dang River and flowers were sold along the river bank of Charner Road, which name was later changed in mid 1950's to Nguyen Hue Flower Market.

In 1999, City leaders decided not to maintain the flower market on Nguyen Hue Street any more. Kiosks selling flowers later moved to other places like Ho Thi Ky in Districts 10 and 11 and a special night market opened from 2am to 5am along the North Gate of Ben Thanh Market.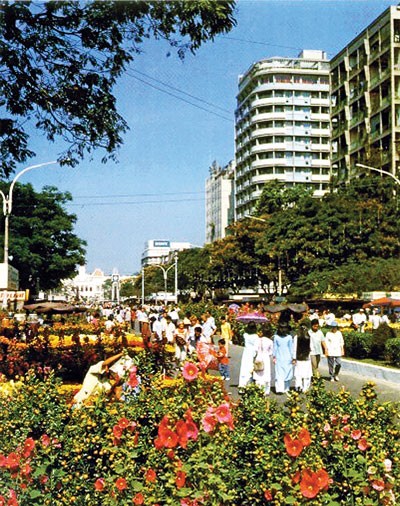 Nguyen Hue Flower Street in 1979
However, flower lovers discussed the possibility of flower festivals following a suggestion by artist Le Ba Dang, whose paintings and graphics are in many important public and private collections, including the University Art Gallery, Lund, Sweden; the Rockefeller Collection, New York; The Loo Collection, Tokyo; Phoenix Art Museum; Ruud Lighting, Inc.; Lloyd Baretz Enterprises; Behavioral Medicine Northwest, Seattle.
 
Nguyen Hue Flower Street was reborn in 2004 and the theme decoration of this famous street changes every year according to the Chinese zodiac signs.
This year is the 'Year of the Snake' and will be the highlight of the Tet Festival and street decoration. Alongside with the Spring Flower Festival in Tao Dan Park, Nguyen Hue Flower Street has become part of the traditional Tet Lunar New Year celebrations and a must visit spot for all during Tet festive season.
 
Spring is round the corner and walking on this street in the City's downtown area can take you back in time, with memories of a vivid past history of a nation fighting for sovereignty.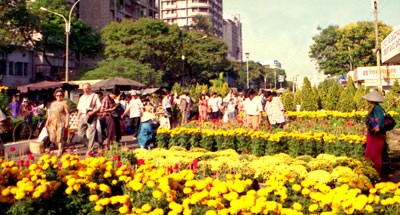 Nguyen Hue Flower Street in 2004