A huge debris from the roof of Phan Dinh Phung Sports House in Ho Chi Minh City yesterday suddenly fell while an international badminton tournament was ongoing. Nobody was hurt.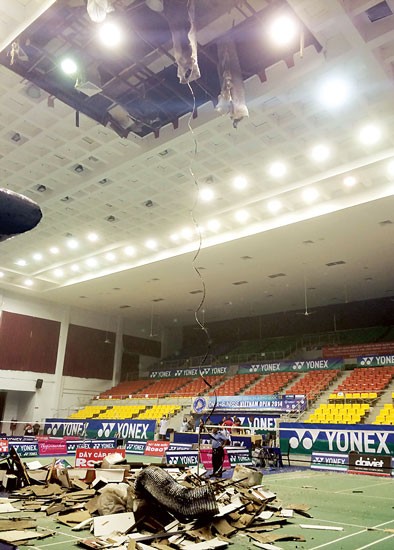 A huge debris from the roof of the sports house suddenly fell on Sep. 2nd, 2014, luckily causing no injury.
Athletes, referees and audiences at the first day of the Yonex Sunrise Vietnam Open 2014 were quite stunned.
As a result, all matches during the first day were postponed after the incident. The incident took place at 7:15PM, causing a very loud noise. People ran away helter-skelter.
While competing against his rival, a foreign athlete saw plaster dust falling down to the court, he immediately reported to referee. Abruptly, plaster ceiling was falling down but people had run away before.
After the incident, the organizing members appeared at the sport house to solve the problem. Mai Ba Hung, deputy head of the Department of Culture, Sport and Tourism in Ho Chi Minh City said that the organizers decided the matches would take place in other venue.
The tournament's organizing board suggested representatives of the Badminton World Federation to examine Tan Binh Sports House in Tan Binh District and Phu tho Sports House in District 11.