Due to an exposed live electricity cable electrocuting and killing a ten year old in District 6, Ho Chi Minh City, the city's Power Company has suspended two officials responsible for the upkeep of cables in the area.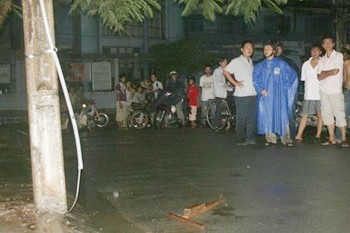 An exposed electricity cable causes the death for a ten year old (Photo: Tuoi Tre)
During a rainstorm, Tran Trung Huy and some friends on September 27 were playing football in an alley near the district's general hospital and his home.
While playing, his friends heard Huy shout and found him lying on the ground close to an electric pillar, where an exposed electricity cable had touched Huy.
Huy's farther, Tran Van Trung, 33, got the cable away from Huy by throwing a brick and rushed him to hospital, but it was too late. 
Two days after the incident, the power company established a team of inspectors to investigate the case.
As a result, the company's management said that the electric pillar was under management of Binh Phu Power Project, a subsidiary of the company.
It has suspended Ngo Van Ly, deputy director and head of the management board of Binh Phu power project. He had earlier taken responsibility and submitted his resignation.
The company also told the project's managers to suspend Hoang Tuan Vinh, head of the technical department.
The inspectors are continuing to investigate the incident and discipline any other workers found negligent.
The company has decided to establish 20 teams of inspectors to check the safety of the electric cable network in the whole city.
The company said it will also check that its workers are following safety protocols. 
This is the third death in recent months due to exposed electricity cables in the city's streets.
Related article:
Students electrocuted in flooded street