Nguyen Hue Flower Street is the focal point each year during Tet Lunar New Year, and this year will be no exception, as the entire street will be adorned with fresh flowers and festive decorations, brought in from all regions of the country.
From the first day of Tet Lunar New Year, on January 23, the main streets in the centre of Ho Chi Minh City such as Nguyen Hue, Le Loi, Dong Khoi and Le Duan will sparkle with colorful lights and festive decorations.
Nguyen Hue Flower Street will open for visitors from 6am on the 27th day of Lunar December and will remain open for seven days till the fourth day of Lunar New Year.
The flower street display will represent 4 different images of the country which will cover the highlands, mountains, plains and islands; the captivating natural beauty of the sea, tranquil villages, calm rivers, serene lakes, ancient pagodas, majestic mountains and peaceful rural landscapes, and the bustling cities….
The spectacular display of the flower street is best enjoyed by walking through the street. Offices and shops located along the street will also be decorated, with festive displays in front of each building.
Several music performances, dragon and kylin dances will be organized by nearby hotels like Caravelle, Rex, Majestic, Grand, Continental, Kim Do, Oscar, Bong Sen and Palace.
You will be able to see the small architectural models of Hanoi, Hue, and specific sites of the highlands in pine wood, showing winding roads and marigold blossoms.
You can visit the section named "Eternal Spring" on Nguyen Hue Flower Street.
Throughout the seven days that the Flower Street will remain open to public, all vehicles will be banned on the entire stretch of Nguyen Hue and Le Loi Streets from Quach Thi Trang Intersection to Saigon Opera House.
In this Lunar Year of the Dragon, all decorations and shows on the street will bear images of the Dragon in different forms. The dragon has been a long time symbol of loyalty and power in Vietnamese cultural and spiritual life. The sacred animal deeply influences people's activities, particularly the past royal era.
Many shop displays include skilful carvings of dragon motifs, such as in jade, jewellery, gold books and silver incense burners.
On the occasion of Year of the Dragon, the Tax Commercial Building on Nguyen Hue-Le Loi Street will show a special symbol of twin Dragons in gold. The exhibit is a unique opportunity for visitors to appreciate the rich variety of dragon images across a wide span of Vietnamese historical and cultural life.
"Hundreds of typical objects shaped in many special forms and representing many kinds of flowers from provinces nationwide are on display in our exhibition on the flower street," said artist Minh Phuong. "For many years now the annual flower show is being organized on Tet and Nguyen Hue Flower Street has existed in city resident's lives. Each year the flower street has new things to offer spectators…" the artist added.
"These are beautiful and extremely sophisticated, showing exquisite talent of our many artists," said Chiem Thanh Liem, a participating architect.
Meanwhile Phu My Hung Spring Flower Fair 2012 will take place at Crescent Zone from January 16 to 22, organised by the Phu My Hung Company and Ho Chi Minh Club for Orchids and Ornamental Plant Lovers.
Accordingly, 700 stalls on an area of 70,000 square metres will hold a flower and foods exhibition to offer high quality goods made by local people for Lunar New Year 2012.
The fair theme "A Green Present and Future", calls on people to protect the environment. A dragon, 46 metres long and 3 metres high, made from paper plates will be a highlight of the fair.
The Le Thanh Company, in charge of landscaping the fair venue, has planted many kinds of flowers. The company used three communal houses of people in highlands, production tools of farmers and fishermen, 12 tons of stone, 69 junk pieces to create the Spring Garden, Spring Station and Spring Street at the fair.
The much awaited annual flower show has been divided into various segments this year with exotic names like Vietnamese Spirit, Southern Tet holiday, New advance, Peaceful Spring, Time of the Season and Humane garden.
Firework displays will be held at seven locations around the city and telecast live on Ho Chi Minh City Television on New Year's Eve.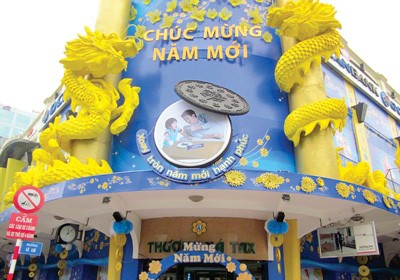 Tax Commercial Building on Nguyen Hue-Le Loi Street shows a special symbol of twin Dragons in gold.
The areas near to CARIC Company, a French Shipyard & Ship repairing Company in District 2, the construction area of the political and administrative center of District 7, Go Vap District Cultural Park, Nga Ba Giong Memorial area of Heroic Martyrs in Hoc Mon District, Ben Duoc Temple of Heroic Martyrs in Cu Chi District, Ethnic Cultural historical park in District 9 and Dam Sen Cultural Park in District 11 and Can Gio District have been marked as locations for the New Year eve firework displays.
Another festival, the Banh Tet (cylindrical glutinous rice cake) festival will take place from January 17 - 21 (December 24 – 28 on the lunar calendar).
The organizers include Saigon Tourist Travel Company, Dam Sen Cultural Park and the HCMC Department of Labor, Invalids and Social Affairs will hand over 10,000 cakes to disadvantaged children from shelters and open houses in the city on January 28.