One construction worker died and another was seriously injured when a section of a bridge under construction in Ho Chi Minh City collapsed on March 10. Strong winds or technical faults are suspected at this stage.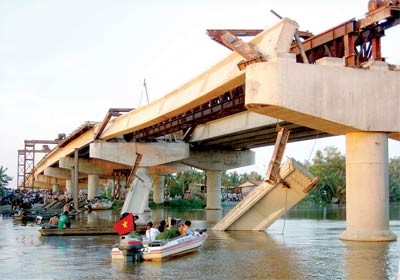 The 9th girder of the bridge under construction in Binh Chanh District collapsed on March 10, causing one worker dead and another seriously injured  (Photo: SGGP)
A span in the bridge over the Cho Dem River in Binh Chanh District suddenly collapsed at 3.30 pm when work was under way, said Trinh Nam Son, a project manager at the Hanoi-based Thang Long Construction Corporation, which has the overall contract for building the bridge.
Tran Quang Thanh, 26, of Nghe An Province, and Tran Dinh Trung, 22, of Nam Dinh Province were injured when they fell into the river after the 9th girder of the bridge collapsed.
An SGGP source said Thanh was clinically dead at Hospital 115.
Nguyen Thanh Tai, deputy chairman of the city People's Committee, rushed to the spot to direct rescue efforts. Rescuers, who searched for an hour, found no other victims.
The preliminary conclusion is that either a strong wind or a technical fault in the span's installation is the cause, Mr. Son said. Each span is 42 meters long and weighs 70 tons.
At a meeting later, Mr. Son said the girders fabricated by his company meet quality standards.
Reporters asked him if the collapse was caused by a weakening of the structure because of misappropriation of construction materials (see box). Mr. Son denied it.
The Dem Market Bridge is one of the works related to an expressway between HCM City and Trung Luong in Tien Giang Province.
Building materials allegedly stolen

Last December, while inspecting the Cho Dem Bridge's piles, the Police for Investigation of Economic Management and Position-related Crime (C15) said it found construction officials had altered some technical aspects so that they could misappropriate construction materials.

It was done by people working for the Thang Long Construction Joint Stock Company No. 12, one of the bridge subcontractors and an affiliate of Thang Long Construction Corporation.

C15 has arrested some people involved in the alleged theft and is investigating.