One more 5-star hotel with international standards will be built in the most expensive T-junction in Ho Chi Minh City, announced the investor Group Corporation and Infrastructure Development & Real Estate Vietnam (VIPD Group) on July 12th.
The new five star hotel located in the golden position of District 1 is a part of the Union Square complex project. Being located near the Opera House and looking to four most beautiful boulevards of the city, the Union Square complex will be the wonderful destination for visit, shopping, dining and luxury accommodation.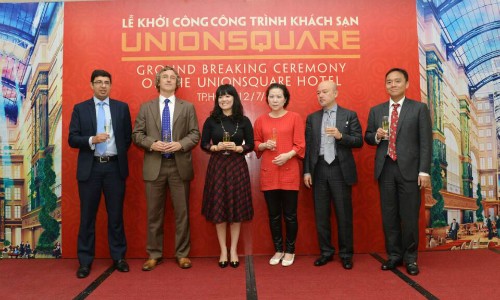 Investors of the Union Square Project pose photo in the ground breaking ceremony of the project in Ho Chi Minh City on July 12th.
The complex including six underground bases and nine storeys in the total are of 91,000 m2 will provide a trading center and a five star hotel with 300 rooms that is positioned from the fifth floor to the ninth floor.
Investor representative Kent Lui of the Hong Kong - based architect company Tactics Kent Lui Ltd. said that the floors for hotels would be designed in an open space with the European ancient style, displaying many famous works of art. Hotel's services will meet international standards and will be a place to hold events for VIPs and successful entrepreneurs.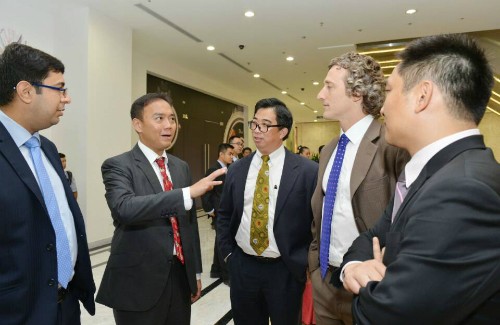 Architect Kent Lui introduces the future hotel to visitors in the ground-breaking ceremony on July 12th.
The project's investors also said that one more investor from Europe joined in the Union Square project. VIPD Group on July 11th signed an agreement with Asia Infrastructure and Property Development Corporation from the UK to fund for the project.
Chairman of the Asia Infrastructure and Property Development Corporation Agnes Dan Sze Wan said that the company chose VIPD Group as a cooperating partners in 2013 after long - time research in the real estate market.
"Union Square project is a good start realizing our long-term commitment to invest in the Vietnam market. This is a signal for hope that there will be a new investment wave breaking the Vietnam shore in the coming time", she added.