One worker died in a fire August 23 at Hiep Luc Absorbent Cotton Production Unit in Ho Chi Minh City's Tan Phu District which also reduced the factory to ashes and spread to a neighboring factory and three houses.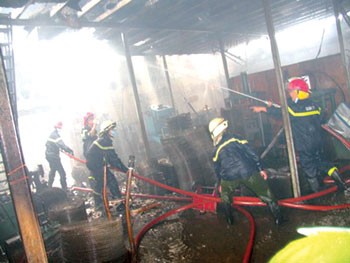 Firefighters get a fire under control
The fire reduced the 500 square meter plant to ashes along with equipment and materials. It also destroyed the materials stored in the neighboring Dieu Van Produce and Trade Co. Ltd, a major producer of electric fans.
 
Firefighters from Districts Tan Phu, 6, and 11 arrived quickly on the scene and battled for an hour and a half to bring the fire under control.
Six workers were working and some others were sleeping in the company when the blaze occurred. The deceased was among the latter.
Initial investigation points to a short circuit as the cause of the fire.