A 1m deep and 0.5m wide sinkhole suddenly appeared at 30-4 Park, District 1 on November 28.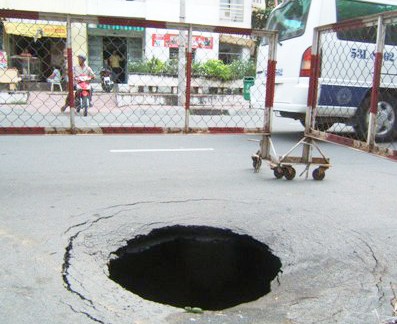 A sinkhole appears in District 3, HCMC.
The Ho Chi Minh City Urban Traffic Management Zone No.1 has filled up the hole and prevented people from passing through the area.
On November 29, the depression land showed remaining larger.
Tran Quang Phuong, director of the city's Department of Transport said this is the 47th hole in the city and the first hole at the park, where has no road work.
Scientists are coordinating with related departments to find out cause of depression land at the park and in other road constructions.
To date, 47 sinkhole has appeared in Ho Chi Minh City. Therefore, the city needs to find out measure to solve the problem, which causes dangerous to construction projects and people.