Ongoing repair work of the Saigon Bridge caused severe traffic jams along the route in Ho Chi Minh City on Tuesday.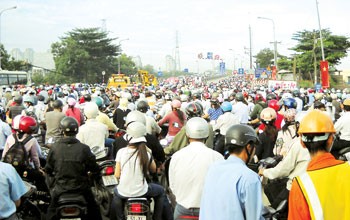 Ongoing repair work on Saigon Bridge causing heavy traffic gridlock (Photo: SGGP)
During peak hours, thousands of motorcycles and automobiles crowded the bridge, which was further narrowed by road construction work. The worst congestion occurred in District 2 where vehicles coming from Thu Duc District to the city center were caught in a gridlock.
Two main car lanes on the bridge have been blocked, forcing cars to move on the motorcycle lanes. The traffic gridlock lasted for several hours on route from Binh Thanh District to Thao Dien Crossroad in District 2.
 
The 1,000m long and 20m wide Saigon Bridge was built in 1961, but further broadened by 4m in 1997. The bridge is the main entry route into the city center from the southern northeast provinces.
Traffic pressure has increased tremendously on the bridge with 40,000 container trucks and a multitude of other forms of traffic shuttling each day. At present, the maximum capacity heavy traffic permitted on the bridge is 25tons.