The online passport granting process which has been applied by the Entry-Exit Management Division (PA72) under the HCMC Police Department since February has seen a good start, accounting for 81 percent out of the average number of 1,100 applicants a day.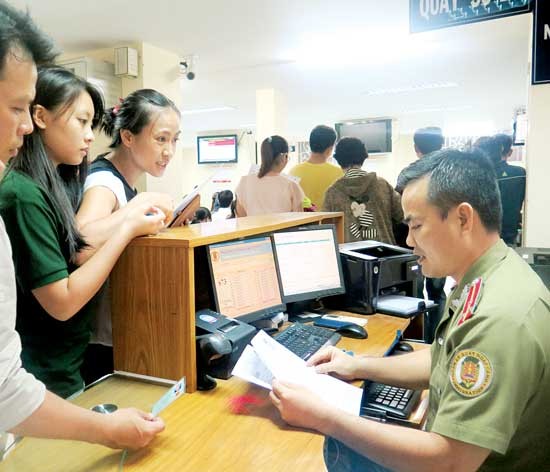 Citizens apply for passports at the Entry and Exit Management Division (Photo: SGGP)
 
Nearly 30 computers have been placed at the headquarters of the division, where three officials are always available to keep security and assist applicants whenever they ask.
After filling in online application forms in the computers, citizens will move to shooting area at the headquarters. Their pictures will be connected to the forms and automatically printed out.
 
In the following phase, officials will scan the forms' barcodes and applicants can get an appointment note to receive passports after a minute.
Colonel Nguyen Van Anh, head of PA72, said that the process is closed and automatic, reducing printing and travel costs and time and ensuring security.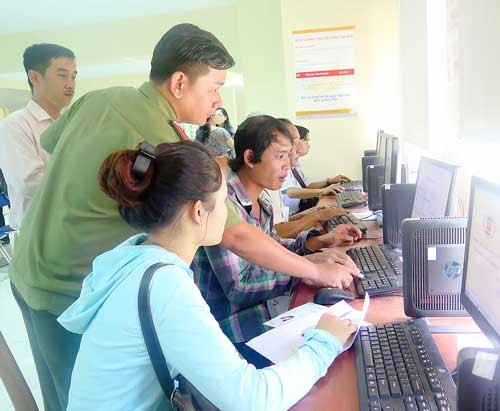 An official assists passport applicants to do online procedures (Photo: SGGP)
The e granting system reduces passport granting process from 15 to 8 days with only one printed paper. Citizens have no longer waited in long queues to buy documents.
After paying fee, they can register home delivery for passports. Those registering permanent residence or long term temporary residence in HCMC can take the e-application form at http://xnc.catphcm.bocongan.gov.vn.
PA72 said that they will launch a pilot project to receive applications right at businesses or at home in the upcoming time.