With Tet just around the corner, ornamental and bonsai trees have inundated the Ho Chi Minh City market but demand for them seems sluggish.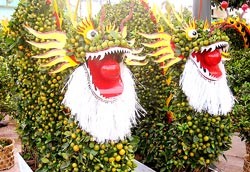 Two ornament trees cost VND4 million in 23-9 Park
The major markets are at Thanh Thai street (District 10), Kha Van Can street (Thu Duc), Le Van Tho street (Go Vap), and Truong Son street (Tan Binh).
The average price of a pot of dahlia is VND20,000–30,000, marigold VND25,000-35,000, and daisy VND30,000-70,000.
An apricot blossom bonsai costs VND70,000- VND100,000.
But people just come to see and inquire about prices rather than buy, a salesman at Hoang Van Thu Park said.
The price of an apricot blossom has increased just 5-10 percent since last year but the costs of transport and tending the trees are higher, a salesman in Hoang Van Thu Park said.
Ba Minh ,who sells flowers in 23-9 Park, said with prices well above VND1 million on average, not many people are buying, adding he has just sold a few in the last three days.
Peach blossoms cost VND1–10 million, again too expensive for people, many of whom prefer something in the VND500,000–700,000 range.